Little Women does justice to Alcott's vision
Little Women, Louisa May Alcott's long-beloved coming of age novel, has been a staple of children's literature for over a century. With her uniquely insightful authorship, Alcott poignantly posed questions about the meaning of womanhood, and the value of ambition versus tradition that remain relevant to this day.
This Christmas, Sony Pictures Entertainment released the latest version of the March sister saga (the last appeared in 1994). The film boasts an impressive cast, with Emma Watson (Meg March), Saoirse Ronan (Jo March), Eliza Scanlen (Beth March), Florence Pugh (Amy March), Timothee Chalamet (Laurie) playing the four sisters and their affectionate neighbor. Meryl Streep is featured as Aunt March, along with Laura Dern as Marmee.
 The production was written and directed by Greta Gerwig, who is well known for her work on 2017 release Lady Bird, and it certainly reflects Alcott's unassumingly feminst intentions. Inspired by the semi-autobiographical nature of the book, Gerwig worked to bring more of the author herself into the story. She even used quotes from Alcott's personal journal. 
Alcott lived in Concord, MA (much of the movie was shot near her old home) in the mid 1800s. Born to a poor family, she worked to support her parents and sisters by selling the stories she wrote to magazines and newspapers as a young woman. Alcott's parents were transcendentalists, and her father was an adamant supporter of women's rights, as well as an abolitionist. She saw patchy success as a writer up to her publication of Little Women, which she based off the childhood experiences of herself and her sisters. 
However, there is a major flaw in the parallelism between Alcott and her protagonist, Jo. Alcott never married, unwilling to sacrifice her independence. Jo is (in a turn of events) married at the close of the book. Evidence suggests that Alcott never intended to marry Jo off, but was forced by her publisher to do so. By blurring the line between history and fiction, Gerwig preserved the sanctity of the original ending, while paying respects to the author. 
And that's the only way Gerwig shook up this American classic. She swapped the linear plot line for a series of fluid flashbacks in which a grown up Jo thinks back on days gone by. The film also features a refreshing reinvention of Amy. The youngest March's vanity reads more like self-respect than frivolity. 
Perhaps most importantly though, the newest Little Women really captured the familial spirit of the story. There was something genuine about the way the sisters interacted; something that made you want to laugh and cry along with the March family. Political statements aside, this is what truly has made the story so enduringly appealing. And Gerwig's cast nailed it; an acting combo that made the love seem real.
About the Photographer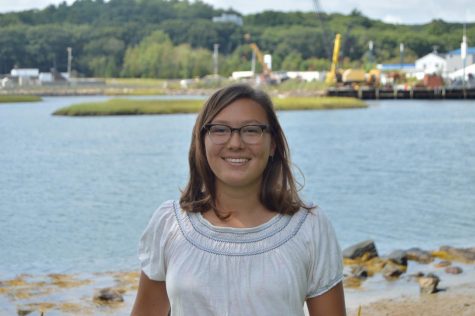 Mila Barry, Editor-in-chief
Mila Barry is in her fourth year at Gloucester High School, and her third year on the Gillnetter staff.  Outside of writing for the newspaper, she's...