College students return home in the midst of pandemic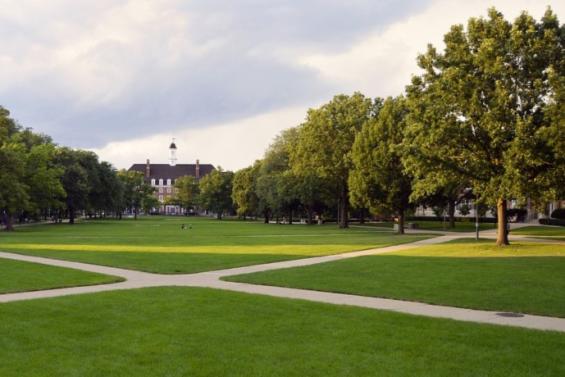 Over the course of the past few weeks, the international community has been racked by the explosion of the COVID-19 pandemic, commonly known as the Coronavirus. At the time of writing, there are almost 200,000 confirmed cases worldwide, with the virus's extended incubation period making an accurate tally far more difficult to compile. While the original outbreak occurred in Wuhan, China, the virus has since spread to 164 different countries across the globe. So far, at least 7,800 people have died from COVID-19 alone, not counting the deaths from lack of resources or access to medical care, both issues exacerbated by the pandemic.
In response to the outbreak of COVID-19, countries around the world are taking various measures to try and prevent further spread, with nations like Italy and South Korea implementing official quarantine and curfew orders. America, on the other hand, has closed about 70% of its schools, most for the remainder of the academic year, and many of its states have banned large gatherings of people and closed or restricted crowd size in restaurants, bars, and other public venues.
With the closure of about 91,000 private and public schools in the country displacing more than 40 million students nationwide, Gloucester has seen an influx of recent GHS graduates returning home as their colleges and universities close their doors. How have these closings affected former GHS students, and how are these young adults coping with a return home in the middle of a pandemic?
"I was really looking forward to springtime on campus and finishing strong what had been a great freshman year", said Brandon Smith '19, a first year student at Boston College, "Although I'm sad that I'll be missing out on that, I respect [Boston College's] plan to keep us all as safe as possible." With Boston College and countless other colleges and universities across the country closing for the remainder of the academic year, Brandon and his peers will be home for the next six months, instead of residing on campus.
Many students expressed remorse at the fact that they had limited notice and time to bid their college peers farewell. Some students, such as class valedictorian Rebecca Dowd '19, a freshman at Wesleyan University, were already away from school when they received word that they would be finishing the semester remotely.
"Last week, Wesleyan announced that they were moving classes online for the remainder of the semester and that students needed to move out ASAP. It was heartbreaking to realize I wouldn't get to say goodbye to so many of my friends, because we were already on Spring Break."
Other students were irked by the confusion and lack of information from their school's administrations.
"So personally, my school waited until two days before break to give us any information about the situation," said Caroline O'Leary '19, a student and varsity lacrosse player at Lasell University, "We found out that we would be moving to online classes and getting an extended spring break on Wednesday and break started on Friday."
Some students faced unique challenges based on how far their schools were from home, and the logistics involved with going back and forth and moving possessions on such short notice.
"Because my school is so far away, and I flew home, I still have a lot of stuff there which makes it harder because I have to wait until I get the thumbs up from [West Virginia University] to go grab everything," said former class president and current freshman at W.V.U., Ruby Melvin '19. 
On the other hand, some students appreciated their school's transparency and efforts to assist students uniquely impacted by COVID-19.
"My school decided to let all of the students know that we wouldn't be coming back after Spring Break so that kids had time to move out before we went on break. I have a lot of international kids at my school and the administration knew that some kids couldn't go home so some kids could apply for special housing applications to stay at the school for as long as possible," said Luke Pata '19, a freshman at Babson College.
With college campuses across the country closing and students being sent back to their homes, most schools have transitioned to remote, online methods of teaching. However, not all schools are offering their students the same programming or same styles of online teaching, and the methods of teaching may vary by major or course of study.
"With remote learning, being a theatre performance major, it's going to be really rough. My classes are all interactive, especially my theatre classes, so I don't know what is going to happen with those classes. Will I have to take them again? What will the professors make us actually do online?," said Colby Taormina '19, a theatre performance major at Salem State University. 
"⅘ of my classes are small discussion-based seminars. Though we can try and hold these classes over Zoom, [a live video chat application], people are in different time zones and suddenly have very different circumstances than they did at school," said Dowd '19.
Many students expressed fears that their academic performance would decline because of current socio-political turbulence and the transition from traditional classes to online learning.
"I fear my academic performance may suffer from this situation as many of my resources and communication pathways have been cut off due to this event. I'm sure many other students are as concerned as I am about maintaining a focused study environment throughout the rest of the semester," said Delaney Benchoff '19, a freshman at the University of Pittsburgh.
Students who participate in athletics have been uniquely impacted by the spread of the coronavirus, as the NCAA cancelled all spring sports as a result of the pandemic. Caroline O'Leary '19, a member of Lasell University's lacrosse team, was heartbroken when she learned that all of her and her team's hard work throughout the year would ultimately be for naught. 
"On Tuesday we found out from our coach that we would not be going on our Spring Break trip to Puerto Rico, something we had been fundraising for and looking forward to since August. We knew there was a potential for our season to be suspended for two weeks then resume, but we found out our conference would not sponsor any games or championships, effectively cancelling our season. My heart was and still is absolutely crushed."
Other students have seen their extra-curricular groups similarly affected by the virus.
"I'm a member of two acapella groups on campus, which don't really have a future online. Rehearsing music virtually is super challenging, so both groups are done for the semester. Concerts are canceled, and we won't get to perform the new songs we learned, nor learn more new songs. For one group, we hadn't even had our first concert yet," said Dowd '19.
Now that Gloucester's recent alums are home from college, these students must now grapple with how to keep themselves safe from the growing Coronavirus, while also juggling online learning and attempting to maintain a sense of normalcy.
"It is very difficult to focus on and prioritize school when there is so much unease and uncertainty during these times. While I think it is important to remain optimistic, I would be lying if I said I wasn't worried about the health of my grandparents and the other members of this community that are at a higher risk. All we can really do is listen to the officials and take the steps that they recommend," said Smith '19.
Some students expressed anxiety over their ability to find jobs, both now and during the summer, as a result of the Coronavirus.
"I'm not looking for work while I take online classes, but I'm scared that after the classes are done, the restaurants won't be open, and that's where I and a lot of my friends work," said Pata '19.
"I have a paid internship in downtown Boston and I have been asked to stay home until further notice. This is definitely awful news to hear as it means I'll have no source of income until this whole thing blows over," said Maria Karol '19, a first year student at Suffolk University.
While most students seemed to share a sense of anxiety and apprehension around the virus, not all students are affected in the same ways.
"My mom has an autoimmune disease and is at high risk for the Coronavirus, so my family is practicing intense social distancing. After the death of my dad last year, it seems important to do everything in my power to slow the spread of the virus so my brother and I can still have one parent," said Dowd '19.
Despite the clear and present need for social distancing in everyone's daily lives, not all students share the same urgency. Both current GHS students and recent alumni are reportedly throwing house parties, continuing to gather in large numbers, and ignoring the direct and unequivocal directions from both public health officials and the U.S. government. By doing so, these students seem to either misunderstand the severity of the virus or underestimate the effect this pandemic could have on families in their community.
"It's important that we think about the people who could be deeply affected in this situation, and not just think about ourselves," said Melvin '19. "Hopefully, people will choose to do the right things, and we can get back our normal lives as soon as possible!"