GHS Thinks Pink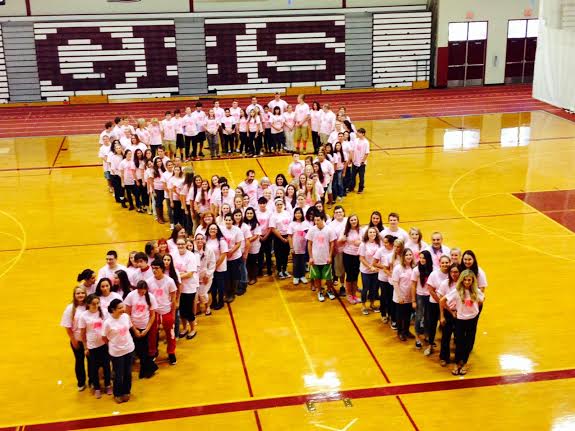 On October 17th, Gloucester High School students and teachers wore pink t-shirts and made a human ribbon to support breast cancer research.
Led by English teacher Mr. Rory Gentile, along with foreign language teachers Ms. Carol Finacey and Ms. Rayanne Menery, started the program to raise money for breast cancer research at the American Cancer Society. Students purchased t-shirts for ten dollars each, and raised more than one-thousand dollars.
"It started as an awareness event," said English teacher Mr. Rory Gentile. Three years ago, Gentile came to GHS with the idea of the "think pink" program. Gentile got the idea from Suffolk University. When he attended the school, the athletic department would give the students pink shirts for breast cancer awareness month. He thought it was a good idea, so he brought it to GHS. Since then, GHS has been "thinking pink" every October.
"I think it's wonderful," said Spanish and French teacher Ms. Carol Finacey. "Going down there and seeing everyone in pink is very emotional."
Finacey says the program started because it is understood that almost everybody in GHS knows someone who has died from or survived breast cancer.
Sophomore Sara Corchado bought a shirt because of her personal connection with breast cancer.
"My cousin has breast cancer and she is pregnant right now. So it's kind of a tragedy," said Corchado. "She has had it before. So she is a survivor. But she is still suffering.  I would encourage people to donate because cancer research is important."