Longtime ROTC leader Richard 'Gunner' Muth inspires at NHS induction ceremony
Here is the full text of his speech
Madam Mayor, members of the City Council,  Mr. Superintendent, members of the School Board, Principal Cook, GHS Staff , Parents, NHS Members and new inductees:
I would like to pass on to you my sincere appreciation for the opportunity to speak at this year's NHS Induction Ceremony, not only a celebration of past accomplishments to this point in your academic careers ,but the promise of your success in whatever you choose to do in the future.
I had the privilege to work for Lieutenant General David Bice, who later became Inspector General of the Marine Corps. He once told me that he never promoted someone to Sergeant because they had been a great Corporal, but only because he believed they would be a great Sergeant.
I believe that NHS needs to be looked at with that mind set.
Like that young Corporal, these students had to achieve a certain level of proficiency to be admitted, but now it's not about what you have done but what will you do.
I believe the National Honors Society is not only an organization of students who have achieved good grades, but an organization for students that promise to be future leaders of our society.
I recently watched a film I have seen a few times in the past, and in it the football coach tells his team members at halftime to look at each other and enter the second half  with "clear eyes and a full heart". As I was thinking about this address that phrase kept popping into my head.
Clear eyes: from this point forward try to look at events, problems, and people with clear eyes, try to see all sides of, including the positive and the negative. Don't get sidetracked by rhetoric, peer pressure or promises. Once you can clearly see, choose the actions you need to take.
Remember Leadership is NOT words it is Actions.
A Full Heart: I'm going to look at a full heart like a toolbox. As you move forward in life inside your toolbox you already have some basic tools placed there by your parents, like values etc., and you will continue to fill this toolbox throughout your life.
The first tool in our box must be an ever evolving set of clearly defined values which include empathy, compassion and understanding of people's situation and needs to better help us understand their point of view.
The second tool is knowledge. You will continue to gain knowledge not only through formal education like college or specialized training but by your day to day experiences, successes and failures. Every new bit of knowledge is like adding a new screwdriver or wrench to your set where you are able to take out the one you need to accomplish the task at hand.
The third tool is flexibility and compromise.  You need to be flexible enough to adapt to the ever changing situations of day to day life, and also must be able to understand that you may have to give a little to get a little back, compromise.
The fourth tool in our box must be a true sense of family. We are all part of the same family started at the very beginning of the human race, you must move forward knowing that even though we differ in terms of, where we are from, skin color, language, religious beliefs or non-beliefs, gay, straight, transgender, we are but one race, the human race.  We don't not have to agree with each other or, for that matter, completely understand each other, but we do have to respect each other.
In closing, I'd like to go back to what I said earlier about leadership is actions not words.  As you can witness almost on a daily basis, words are easy. It's easy to point out the problems or deficiencies, make signs, protest, walk out of school, or work to shed light on problems others already see, all of these are not really actions but only words.
True actions are not easy fixes to appease certain groups of our society but rather to find real, workable solutions to solve those problems for everyone.
Members of the Gloucester NHS, I challenge you to go forward with clear eyes and a full heart, find real solutions, not rhetoric to issues and move our school, community and nation closer to its promise of liberty, opportunity, equality and prosperity.    
Thank you.`
Leave a Comment
About the Contributor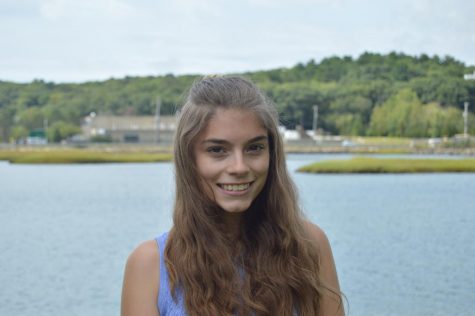 DANIELLE DENMAN, Staff Writer, Editor
Danielle Denman is a senior at Gloucester High, and is kicking off her third year as an Editor for The Gillnetter. She is a member of many clubs, including...