Homelessness is an issue for every age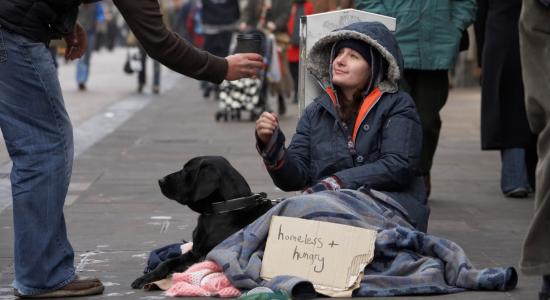 Imagine a hungry teenager surviving on their own, desperately searching for food and a place to sleep at night.
Homeless youth often become homeless because of family problems, economic problems, and/or because they are aging out of foster care and have nowhere to go. They are found staying in shelters, campgrounds, parks, cars, public buildings, and their friends' houses.
According to the Department of Justice, this lifestyle is a reality for more than 1.7 million teenagers and children a year.
With about 20% of American kids living with families that are under the poverty line, any small change in income, such as a lost job or even a decrease in work hours, can greatly impact a family's financial situation and may even be enough to force them into homelessness.
The McKinney-Vento Act was designed to ensure that homeless youth are given equal access to public education as other students. Under this act, public schools must enroll a homeless student even if they are unable to provide proper medical or academic documents or a form of proof of residency. The school district must make decisions based on what is academically best for the student. If requested by the guardian of the student, the school is required to provide transportation to and from the school. The act also ensures that students have an equal opportunity to participate in after school and special education programs at the school.
Ann-Marie Jordan is the homeless education liaison for the Gloucester Public Schools district. She is responsible for making sure the McKinney-Vento Act is followed by making sure the school staff are identifying students who are homeless and ensuring that these students are able to go to school and fully participate.
"Last school year there were over 21,000 children in Massachusetts identified as homeless," said Jordan. "Here in Gloucester there were 30 children identified as homeless throughout the school year, including 2 children in the preschool, 14 elementary school children, 7 middle school students and 6 high school students."  These numbers may even be a little low since some families may not want to disclose that they are homeless.
Homeless teenagers are at a greater risk of suicide, anxiety, depression, and poor health. Often, they come from situations where they are not supported or may have been sexually, physically, or emotionally abused by their guardians. In a study done by the Covenant House, around 50% of homeless teens said that a major reason they are homeless is because they experienced intense physical abuse by a guardian.
A report done by dosomething.org found that approximately 34% of the homeless are under the age of 24, and while some of these young adults and children are homeless with a member of their family, lots of them were unaccompanied. 80% of the homeless under the age of 24 have resorted to drugs and alcohol already.
Homeless youth has been recognized as a severe problem and multiple organizations are working to help out. Some of these organizations include: StandUp For Kids, The National Coalition for the Homeless, as well as the National Alliance to End Homelessness, which are each open to donations on their websites and share the common goal of helping out the homeless as much as possible.
https://www.covenanthouse.org/homeless-teen-issues/statistics
http://www.ncsl.org/research/human-services/homeless-and-runaway-youth.aspx
https://www.dosomething.org/us/facts/11-facts-about-homeless-teens
https://youth.gov/youth-topics/runaway-and-homeless-youth
https://www.nbcnews.com/business/economy/one-30-american-children-homeless-report-says-n250136