GHS junior helpless as Bomb Cyclone destroys car
For Maria Karol, a student at GHS, last week's gargantuan blizzard and accompanying weather phenomenon were more than just an opportunity for days off from school.
As pictures of a flooded GHS circulated through social media, Karol knew her outcome looked bleak.
"When I saw the videos my heart dropped. I could see my car in the photos and it was almost completely submerged. My mom and I started panicking and asked my dad to bring us down there. Once we were there we realized there was nothing we could do and it was a total loss."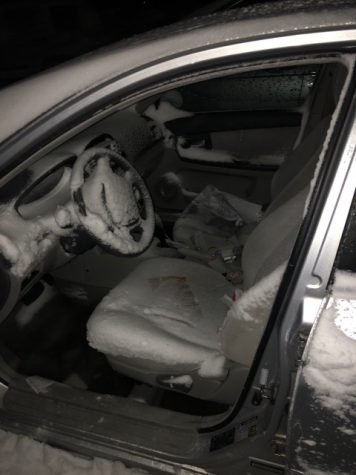 Karol parked her car in the GHS parking lot, having heard that this area was the only available public lot for free parking. Dozens of other Gloucester citizens, who also had their vehicles destroyed by the rampant flooding, were under the same impression.
"Later that night when the flooding had gone down, some of my friends and I walked down to the lot. My driver seat window had busted open from the water pressure and the entire interior was soaked. The car wouldn't start and it was completely stuck in ice slush."
Karol raised the money for her car on her own, and often uses it to assist her mother in transporting her younger siblings, or to take herself to and from a job she works in order to afford the car itself.
"My mom and I each lost a car, parked side by side. My mom works in Boston and having her car was crucial. She often depended on me to be there to give rides to my little sisters, to be able to get to school and back, and now we feel stranded."
Despite the circumstances, Karol's insurance does not cover any cost of flood damages. Karol will have to pay for the damage out of her own pocket, and in the meantime, may be forced to rely on expensive taxi services to get to the places she needs to be, whether that is O'Maley Middle School to pick up her siblings or her workplace downtown.
"My mom had full coverage on her car, so the insurance company will be able to pay off her loan and she'll be able to put a deposit down on another car. On the other hand, I only had liability on my car so there was nothing the insurance company could do for me. I lost my car and had practically no money saved, and the city is doing little to help anyone who was affected."
Karol recently started a crowdfunding campaign to help her cover costs and work towards purchasing another car that her and her family need. The campaign can be found at: