Teen artist guild inspires local teens and youth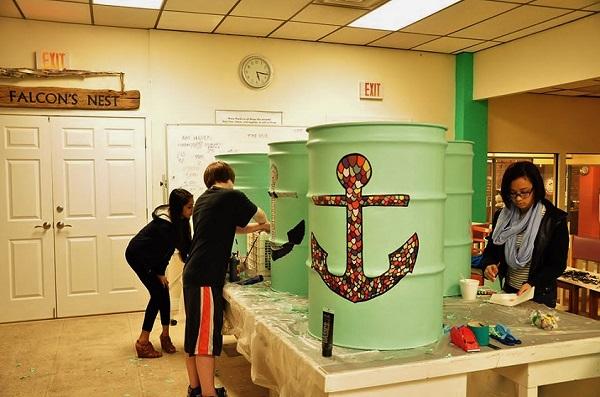 Young artists in Gloucester seeking to create something beautiful in warm friendly atmosphere can look no further than The Teen Artist Guild. Located in The Hive on 11 Pleasant Street, the group, based out of the iconic W.G. Brown building in central Gloucester, serves as both a community center, and and inspiring art space for youth, teens and adults looking to release their artistic potential and passion.
For teens, it provides free, hands-on art skills training with community artists. It is also a workplace for teens to create symbols and art pieces for people and organizations in the community.  Teens who get accepted into the Teen Artists Guild receive income for the items they sell.
Kelly Broe, a student at Gloucester High School and a member of the Teen Artist Guild, loves the warm and creative atmosphere of the hive.
"I have learned so much in one session," said Broe.  "I learned how to sew, and then we got a one thousand dollar grant for sewing machines."  Broe says she appreciates the way artists in The Hive work together.  "I take classes for free that most people would pay for."
Aiden Symes, a student at Boston University and a key member of the Teen Artist Guild, noted the importance of inspiring teens to create art.
"Some people are going to be into sports and that's what they are going to do with their life, that's great. Or they're playing in bands," said Symes. "But a good portion of kids are going to be into art. So giving them a place where they can own their own space and do their own work with high level industry grade equipment is great."
The two year old program offers graphics, screen printing, photography, and digital printing as. It also offers sign and mural painting.  One of the main fundamentals in the Teen Artists Guild is teaching design.
"If you can teach people how to design, they learn how to take their idea and craft it into a way they can communicate visually," said Teen Artist Guild founder, David Brooks.
This year's members of the Teen Artist Guild participated in end-of-summer open houses at the Pleasant Street Tea Company, Art Haven, and The Hive. The members also sold art at a farm-stand on Thursdays.
When applying for the program students  may choose from a variety of interests to be trained in. Examples include screen printing, photography, fashion design, mural painting, sign painting and graphic design. With help from volunteers and generous donations The Hive now has a new fashion and graphic design space complete with new computers and sewing machines.
For more information about The Teen Artist Guild:
WWW.TAGSERVICES.ORG
(11 Pleasant Street) Gloucester, Massachusetts
978-283-3889
TAG@ArtHaven.org