Don't feel blue, think pink
October is National Breast Cancer Awareness Month, and to honor and acknowledge this, GHS language teachers  Carol Finacey and Rayanne Menery have spent the last handful of weeks selling pink t-shirts emblazoned with the phrase "GHS Thinks Pink" across the front. On Friday, October 20th, all students and faculty who had purchased a shirt gathered in the Benjamin A. Smith Field House, arranged themselves into a human heart, and snapped a photo.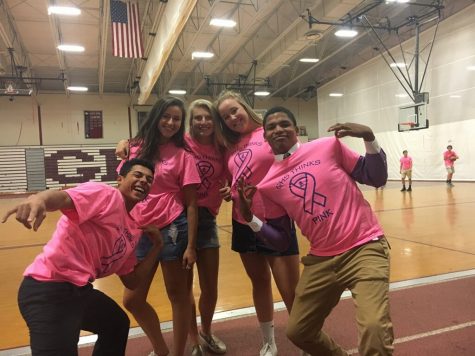 "We are raising awareness and support for those people who have fought breast cancer. And hopefully, we can find a cure before all these young people grow to an age where they are at a risk for developing it," said Finacey, a survivor of breast cancer herself.
Since 2001, every October, Gloucester has held this fundraiser to generate money for breast cancer research. Each t-shirt cost 10 dollars, and the proceeds were donated to various different breast cancer research funds. Menery estimated that about 160 shirts were sold in total.
The Italian teacher also had this to add: "We did it the first year because there were cancer survivors in the school. Ms. Finacey and Ms. Francis themselves are survivors."
The American Cancer Society estimates that every woman in the U.S. has a 12% chance of developing breast cancer during their lifetime. Breast cancer is also the second leading cause of death among women.
Junior class president Ruby Melvin, when asked about how important an event like this is to her, had this to say:
"This fundraiser is an awesome thing that GHS does, not only to raise awareness for breast cancer, but also to support those who go through it or have gone through it, including a few teachers at GHS!"