Petralia heads to Vietnam for humanitarian effort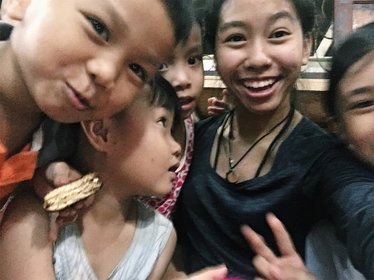 Reaching back into one's roots can be an emotional and inspiring experience. For 15 year old Amy Petralia, her journey back to her native country will change her life and the lives of others.  
Amy, who left on April 5th, is spending the next two weeks in Vietnam on a humanitarian trip, where she will work in a pharmacy while her mother will be assisting in the care taking.
Amy's parents adopted her from Ho Chi Minh City, Vietnam (formerly known as Saigon) when she was a newborn, and this will be her first time visiting the country since the adoption.
"This is my first trip back there since I was born. I'm nervous, I really am in a way. It's not where I was originally from, but I mean it's the same country so it's pretty cool. But the main mission is for kids to get open heart surgeries and other medical assistance that they need."
The trip is run by "Vets With a Mission", a group that sends  Vietnam war veterans back to Vietnam in order to reconcile with their past. It also allows volunteers to join the trip, and help with the mission by working in pharmacies, assisting surgeons, and helping with general care. Volunteers include doctors, dentists, and optometrists as well as people who have no experience within the medical field. For more information about "Vets With a Mission", visit the website at the bottom of the page.
Amy and her mother made the decision to go towards the beginning of last year. Since then, they have raised money on GoFundMe, as does every volunteer, and raised $4,825 by the time they left. The money raised will be used for medication, bags, and other supplies.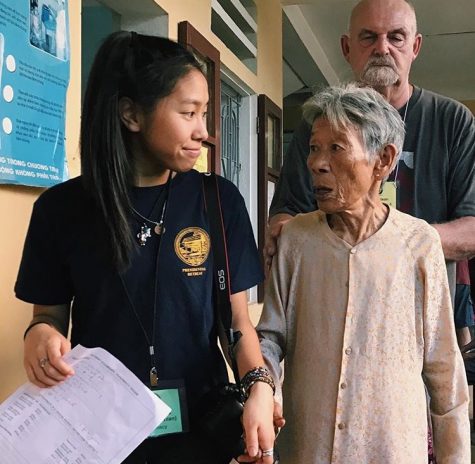 Anywhere from 15 to 30 people usually go on the trip. The mission sends volunteers down in groups, which allows the next group to have the leftover supplies.Whichever group the volunteers go with depends on what they want to sign up for and what time works best for them.
"I never had traveled outside the country before this summer to do these kinds of projects, but I did do harvest meals and things like that in the community," said Petralia. "So I have been growing up with helping others rather than helping myself first."

For the first two weeks, Amy and her mother will work on the project, and for the last five days they will be visiting Halong Bay. At one point they will stay on a boat for one night and, if they can, will travel along the Delta, and some other sightseeing.
"We won't be going down to where I was from, sadly enough. It's just too far and should be a whole other experience for a whole other trip," said Petralia.
This past summer, Amy traveled solo to the British Virgin Islands for a separate humanitarian trip, where she spent her time tagging turtles and working with others on the ocean. Because of this trip, she realized she wanted to do more projects to help others who are in need.
"When my mom told me about the entire trip of helping out other kids and helping out the environment I was like "Oh, that's something I wanna do." Then when I came back from my trip in the Virgin Islands, it's when I realized that I really wanted to do this now," said Petralia. "Like it was something that I had on my mind all the time and I couldn't wait to get back out on the plane and just go out and help out. It's just been this kind of like crazy imagination of doing this for the rest of my life when I can, in any way."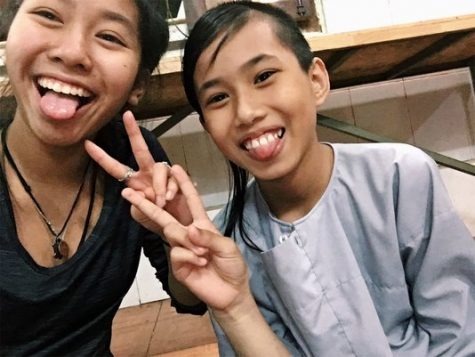 "This is definitely something I want to do again in the future. I would want to do this as a profession, but I know that it's hard to make money and to live off of something like that with finances and everything else," said Petralia. "I want to keep on travelling up to new places and do actual work instead of going for vacation. I just know that there are other places that need help rather than sitting at home or travelling to this like really exotic place and just and doing no work at all because I feel guilty about it in some ways so whatever I can give back would just be a vacation for me."
She has spent the last few weeks preparing for the trip by reducing how often she uses her phone so the change will not be as difficult. Although she brought it along, the only time she will use it will be to share her blog posts on Facebook, but she will not be using it for Snap Chat, Instagram, or any social media use that does not involve her blog. She also brought along her computer in order to write on her blog to update her friends.
"I won't be texting my friends, especially because it's expensive. I will definitely be broadcasting what I'm doing, just not in a way where it's like "Look what I'm doing!" or "Look at how cool this is!" but more to show people how important this is and how much impact it has on the people itself," said Petralia. "So you will definitely be seeing photos if you follow me. But like texting wise, snapchatting wise I'm taking a break, which will be helpful."
Amy has a message for her readers on why it is important to give back to the community and participate in trips like the ones she has been on.
"Anything helps, whether it's a small thing or doing something where it takes you out of the country. Maybe it doesn't seem like that for you right now but for the people of the future it does. Everything helps a community, no matter how small it is. And I mean there are simple tasks to do it. There's community service, there's recycling even. Anything you do in a positive way can be such an impact on the future. And I think that even though I know that we're teenagers, that we don't have enough time to do homework and college stuff and whatever, it can be fun. It's so much fun and you meet so many new people too. And I just can't stress this enough of how important it is, especially in this day and age to just get out there. It just seems like we're losing contact with the world itself and with reality, so going out there and helping out the environment and the community helps bring back the contact. But going out into the world and doing something it is also refreshing for yourself."
You can follow her journey, and the ones in the future, by visiting her blog:
And learn more about "Vets With a Mission" by visiting:
http://www.vetswithamission.org/