Snakes slither into GHS
Ever wondered what kind of wildlife lurks around Gloucester? The Cape Ann Vernal Pond team came to GHS on Friday to spark interest and awareness to the numerous vernal ponds in the area as well as teach students about one specific predator: snakes.
Rick Roth along with his team from the Vernal Pond Association brought snakes from New England and around the world to the lecture hall for students to learn about and hold.
"A lot of people aren't aware of this but there is nothing cuter than a baby snake," said Roth as he held up one of his new hatchlings. 
There are 14 species of snake in New England, all of which were in the presentation. These snakes include the garter snake, ribbon snake, milk snake, green snake, water snake, and even the black rat snake that is endangered in Massachusetts.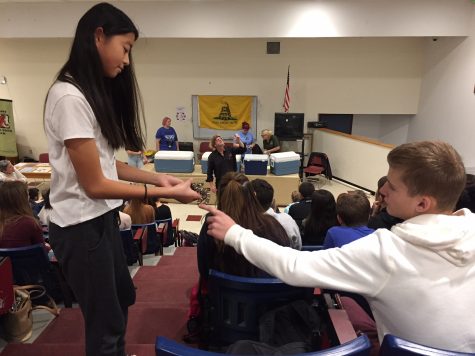 "We do have two venomous snakes in New England," said Roth, "copperhead and rattlesnake."
Students had the opportunity to safely view these snakes through tightly sealed and clear boxes.
"I think they're interesting, misunderstood, and an essential part of ecosystems," said Biology teacher Jessica Lichtenwald.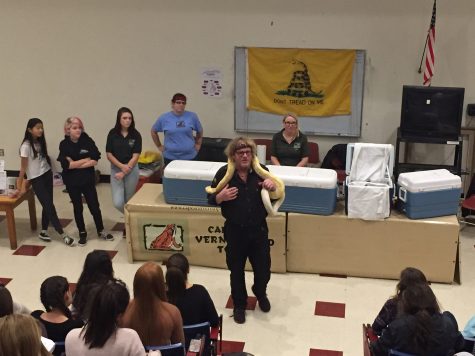 Roth explained to the students that keeping the snakes in pillowcases allows for a dark environment as well as the ability to breathe.
"Every now and then you have to bag a crabby snake," said Roth as he turned the pillowcase inside out in order to bag an unhappy snake.
Other snakes from around the world include snakes from the Midwest, Africa, and parts of South America. The pine snake, African house snake, boa constrictor, and even a python was featured in the presentation.
Roth taught the students that pit vipers have a heat sensitive pit in between their eyes for infrared vision to see at night.
"There are some dangerous snakes out there," said Roth. "I have never been chased by a snake nor have I ever been bitten by a snake that I haven't picked up."
Despite Roth's teachings of safety and caution, some students' fears were still prominent.
"They're so unpredictable, you just can't predict what they're gonna do," said junior Lindsey Parisi. "I learned they can blend in but that doesn't really help me, just points out the fact that I can't see them."