Art club shows talent with new mural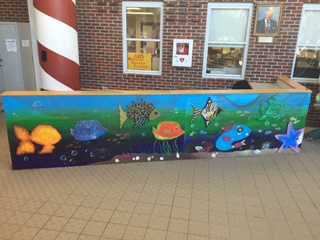 There is a new addition in the GHS atrium that cannot be missed. The art club designed an ocean scene, including the Krusty Krab and Plankton's Chum Bucket, and placed the mural below the island and the lighthouse column.
"We started this club two years ago and this was our starter project," said junior Danielle Bauke. "The project took two years."
The detail and precision of the mural shows the time was needed.
Art club is lead by GHS art teacher Lorrinda Cerrutti. " The school had no art," said Cerrutti. "The club decided to put some color in the atrium."
"We wanted to make the school beautiful," said Bauke.
The club is also working on a chair with a map of Gloucester painted over it which will be finished by Christmas break.
The art club is composed of students with a common appreciation of art, and they are always welcoming to new members.
"The people are really nice and accepting," said sophomore Betsy Silveira. "It's a group of people who love art."
"Some people say theater got them through High School," said junior Sarah Burnham. "For me, it was art club."
Burnham and Silveira have some advice for future artists.
"Just be yourself," said Burnham.
"There is no such thing as a bad artist," said Silveira
The club meets on Tuesdays, right after school, in room 3111.