Another successful year for foreign exchange program
Last friday, twenty one students from Forli, Italy came to Gloucester as part of the yearly foreign exchange student program at GHS. The foreign exchange program began at GHS when Carousel Tours requested that Gloucester start a program to take students from Italy.
Many of the students took their new Italian friends to the block party the night they arrived. The other days that the Forli students didn't have field trips, the Gloucester students took them for frozen yogurt, shopping, touring, to the beach, to see the Labor Day fireworks, and cheer on the Gloucester Fisherman on their first football game of the season.
"The exchange program went very well. This is, I believe it's 5 years, maybe more, that they have been coming from Forli. The kids have a great time and the Italian students love the American school system," said Spanish teacher Celestino Basile. "Some of them make comments on how they wish they could be here. And the American students definitely love having them,"
The Italian students experienced how life here in America is different from how theirs is in Italy. "It's very different because in Italy we have very different habits," said Margherita Cuttonaro, one of the exchange students. "I can discover a lot of things my host family does that is different from mine."
Although she doesn't miss her home in Italy, she does miss the food. "The number one thing I'll miss is the people. They are all very nice and kind. I don't want to go back, I want to be able to stay for another few weeks."
About the Contributor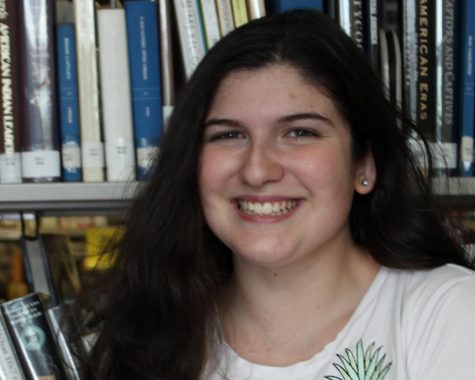 MARIA KOTOB, Editor, Staff Writer
Maria Kotob is a senior at Gloucester High School. She is co-president of Interact Club, historian of the National Honor Society, and a member of Human...