School based health center offers convenient care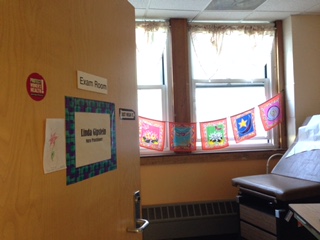 Forgot to get your physical for tryouts? Haven't had time to go to the doctor's office for a pesky cold that won't seem to go away? Looking for a safe space or a friend to talk to during lunch? The school based health center in room 1214 is the place to go.
Linda Gipstein has been a public nurse practitioner for 25 years. Her, along with public health worker Karen Hurst and mental health counselor, run the school-based health center adjacent to the ROTC office on the first floor.
The health center is funded by a grant from the state of Massachusetts and Addison Gilbert Hospital. Because of this, visits to Ms. Gipstein are free for students, and no bill is sent home. This provides "convenient care that is accessible," said Ms. Gipstein.
"It's nice to know that I can get professional health care independently in my own school," said sophomore Corryn Ulrich. Ulrich has been to the health center twice for well-visits. "It's so convenient to have someone right downstairs to help me with all of my health care questions and needs."
Not only does Ms. Gipstein provide well-visits and physicals, she, and Karen Hurst, run the health fair every fall.
"The health fair is always really informative and interesting," said sophomore Carly Curcuru. Every fall, students can visit the health fair in the field house where there are many health and wellness related booths.
As well as providing health care and information, the health center is a place for students to go to have someone to talk to.
"I think that Linda is a great person," said sophomore Karissa Murray. "I went in the beginning of the year and recently I had a follow-up visit and I realized how close I've become with her over this year. She was very helpful with what I want to do with my future in the medical field. And it's nice to know that Linda and Karen are there for me if I need someone to talk to."