Food for thought
I cook a lot. I find very good food exciting. After all, food is awesome. But have you ever wondered where your food comes from?
I was in the grocery store the other day and happened to glance at the label on the asparagus I was buying.  To my surprise it was not shipped from California, but from Peru. That got me thinking: how much jet fuel was used to get that asparagus from Peru to me? I wanted to know how I could cut down on the fuel that got my produce to me.
Often, in the middle of New England winter, we find ourselves eating produce shipped not only from California and other parts of the U.S., but also, from all over the world. Next time you are at the grocery store, take a look at the labels on your produce. Often, they will tell you from where it was grown and shipped.
Interested in eating locally?  I was under the impression that nothing grew in New England in the winter. I was almost right.  There are still ways to get local produce in the cold winter months. Here in New England we have lots of produce that can be stored from the fall, such as apples, beets and potatoes.
In some areas of Massachusetts, produce is also grown in greenhouses or with other alternative growing methods. If you can find greens grown locally in the winter, make good use of them. Recipes that contain lots of root vegetables and grains keep you as local as possible. And, as an added bonus, they are comforting food in the cold winter months.
Here are some great ideas for using local winter produce:
Butternut Squash Soup With Ginger

INGREDIENTS
2 butternut squash (about 4 3/4 pounds total), halved lengthwise, seeded
2 tablespoons vegetable oil
2 cups thinly sliced onion
1 tablespoon golden brown sugar
2 teaspoons minced fresh ginger
2 garlic cloves, coarsely chopped
1/2 cinnamon stick
5 cups (or more) canned low-salt chicken broth
Chopped fresh parsley
PREPARATION
Preheat oven to 375°F. Oil baking sheet. Place squash, cut side down, on baking sheet. Bake until squash is very soft, about 50 minutes. Using paring knife, remove peel from squash; discard peel. Cut squash into 2-inch pieces. Heat oil in heavy large pot over medium-low heat. Mix in onion, brown sugar, ginger, garlic and cinnamon. Cover pot and cook until onion is tender, about 15 minutes. Add squash and 5 cups chicken broth. Bring to boil. Reduce heat to medium-low. Cover and simmer 10 minutes. Discard cinnamon.
Working in batches, purée soup in blender. (Can be prepared 1 day ahead. Cool slightly. Cover and refrigerate.) Return soup to pot. Season soup with salt and pepper. Bring to simmer, thinning soup with more broth if necessary. Ladle into bowls. Sprinkle with parsley and serve.
http://www.epicurious.com/recipes/food/views/butternut-squash-soup-with-ginger-15572
Beef Stew with Potatoes and Carrots
INGREDIENTS
For braised beef:
5 pounds boneless beef chuck (not lean), cut into 2-inch pieces
3 tablespoons olive oil
3 carrots, quartered
3 celery ribs, quartered
2 medium onions, quartered
1 head garlic, halved crosswise
3 tablespoons tomato paste
1/3 cup balsamic vinegar
1 (750-ml) bottle dry red wine (about 3 3/4 cups)
2 Turkish bay leaves or 1 California
2 thyme sprigs
3 cups reduced-sodium beef broth
3 cups water
For potatoes and carrots:
2 1/2 pounds small white boiling potatoes
1 1/2 pounds carrots
Equipment: a wide 6-to 8-quart heavy pot with a tight-fitting lid
Accompaniment: crusty bread
PREPARATION
Braise beef:
Preheat oven to 350°F with rack in middle.
Pat beef dry and season with 2 1/2 teaspoons salt and 1 teaspoon pepper.
Heat oil in pot over medium-high heat until it shimmers, then brown meat, without crowding, in 3 batches, turning, about 8 minutes per batch. Transfer to a platter.
Reduce heat to medium, then add carrots, celery, onions, and garlic and cook, stirring occasionally, until well browned, about 12 minutes.
Push vegetables to one side of pot. Add tomato paste to cleared area and cook paste, stirring, 2 minutes, then stir into vegetables.
Add vinegar and cook, stirring, 2 minutes.
Stir in wine, bay leaves, and thyme and boil until wine is reduced by about two thirds, 10 to 12 minutes.
Add broth to pot along with water, beef, and any juices from platter and bring to a simmer. Cover and braise in oven until meat is very tender, about 2 1/2 hours.
Set a large colander in a large bowl. Pour stew into colander. Return pieces of meat to pot, then discard remaining solids. Let cooking liquid stand 10 minutes.
Cook potatoes and carrots:
While beef braises, peel potatoes and cut into 1/2-inch-wide wedges. Slice carrots diagonally (1-inch).
Add potatoes and carrots to stew (make sure they are submerged) and simmer, uncovered, stirring occasionally, until potatoes and carrots are tender, about 40 minutes.
cooks' note:Stew improves in flavor if made at least 1 day ahead. Chill (covered once cool) up to 5 days. Reheat, covered, over medium heat or in a 350°F oven.
http://www.epicurious.com/recipes/food/views/Beef-Stew-with-Potatoes-and-Carrots-350935
Roasted Brussel Sprouts
INGREDIENTS
2 cups fresh brussel spouts, halved
1 tablespoon olive oil
1/4 teaspoon kosher salt
1/4 cup raw sliced almonds
juice of 1/2 lemon
2 tablespoons parmesan cheese, grated
PREPARATION
Preheat oven to 400° F.
Place the brussel spouts, olive oil and salt on a sheet tray and toss to combine.
Bake the brussel sprouts, cut side down, for 20 minutes.
Remove from oven and top brussel sprouts with sliced almonds. Bake for an additional 5 minutes.
Place the roasted brussel sprouts and almonds in a bowl, top with Parmesan cheese and the juice of half a lemon.
Serve.
http://www.epicurious.com/recipes/food/views/Roast-Brussels-Sprouts-51263020
Authors Note: The cooked brussel sprouts are just as good with a little salt and pepper.
Leave a Comment
About the Contributor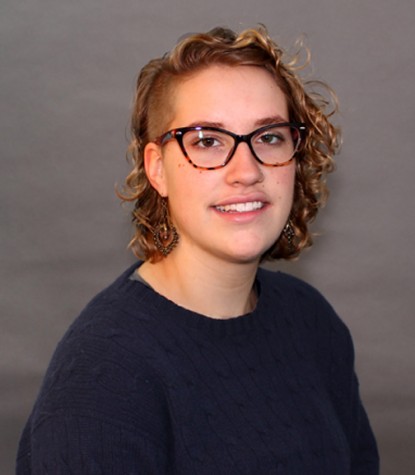 EMMA PADDOCK, Staff Writer / Copy Editor
Emma Paddock is a senior at Gloucester High School. She enjoys reading, cooking, sleeping and sharing the news with you. At The Gillnetter, Emma currently...