SZA gives the people what they want with SOS
At long last, alternative R&B sensation SZA has released her long-anticipated sophomore album, SOS. In the 5-ish year span between her last album, CTRL, to this album, SZA has "recorded over 100 songs", as she has said in multiple interviews. This enormous effort has led to an album that is everything an alt R&B fan wishes for – experimental, memorable, and chock-full of absolute jams
Where CTRL was melodic, almost gentler, SOS is darker, more connected to its rap parentage. While CTRL was firmly and inarguably an R&B album, SOS is harder to pin down – the sound of the album moves around, starting at a place that is distinctly trap, but moving to encompass elements of gospel, old-school hip hop, even acoustic pop.
It's still distinctly SZA, but it's an evolved, creatively distinct version – 5+ years will do that to an artist.
The album features themes of love, lust, isolation, jealously, just to name a few – though I couldn't tell you what she's saying in most of her songs without a Google search. Featured artists include Don Toliver, Phoebe Bridgers, Travis Scott, and Ol' Dirty Bastard, all all-star team of musicians.
Not to get ahead of myself, but "long-anticipated" may be underselling it – the album's lead single, "Good Days", was released in December of 2020. The song received a both a VMA nomination and a Grammy nomination, which it very well deserved. The next single, I Hate U, came a year later, debuting at #7 on Billboard Hot 100. Both songs immediately garnered enormous critical acclaim from fans, and left everyone wondering – what will SZA' next album be like, and when?
The album cover features SZA gazing out over the water on the diving board of a yacht – reminiscent of a famous photo of the late Princess Diana. SZA confirmed this in an interview with Hot 97, saying "I just loved how isolated it felt, and that was what I wanted to convey." 
The album name, "SOS", is both a reference to the title track and a reference to a nickname of the artist's. This is SZA – if she's doing something musical, she's thought it out.
"Well, of course it's like, 'Save Our Ship', 'Save Our Souls', but it's also because… people  call me 'Sos' [pronounced SOZ], my friends call me Sos for short," SZA says. "It's like Solana [SZA's name], but shorter and cuter, I guess."
The album begins with its title track – a jazz-soul fusion of an opening with horns, a gospel chorus backing, and synth that makes the track an absolute ear-worm. SZA raps and belts her heart out to get the listener excited for the album, and she succeeds. 
The album's sound begins in a helplessly catchy string of rap-R&B hits, including the first feature – "Used", with Don Toliver. From the honesty of "Used" to the confidence of "Blind", the album's first section is fresh, a new sound to match a new SZA.
The first and arguably the standout of these first tracks is "Kill Bill", named after the classic Tarantino martial arts film. It's aptly named – the song's sound is punchy, pun intended – and the lyrics are a dark anthem to the possessive exes of the world: "I get the sense that you might really love her / This text gon' be evidence, this text is evidence / I tried to ration with you, no murders, no crime of passion / But damn, you was out of reach." 
As expected, the album is chock-full of love songs, from trap-influenced longing in Notice Me, to to slightly shallower but no less catchy ballad in Snooze. Though these tracks, grouped at the beginning and end, are all strong, the standout is track 10, "Gone Girl", a juxtaposition of independence amongst the jealousy and desire.
"Gone Girl" is a song coming from SZA's heart and burrowing straight into ours, a heartfelt request for a simpler, better love: "I need more space and security / I need less voices, just you and me / I need your touch, not your scrutiny / Squeezing too tight, boy, you losing me." The lyrics are relatable, confessional, and perfect for tearful belting in one's bedroom late at night. The instrumentation – gentle drums, melodic e-piano, a faint chorus in the background – is beautiful, effective, and purely SZA. 
Devout R&B and hip hop fans will feel the spirit of Lauryn Hill in "Smoking on my Ex Pack", a brief interlude to break up all the emotions and trance-inducing instrumentals. The interlude is so nostalgic and honest, it leaves the listener disappointed to see that it's just under a minute and a half long.
Ghost in the Machine is the second feature on the album, with SZA and Phoebe Bridgers coming together to produce a track that is dreamy, hypnotizing, and weighed-down by the pain and struggle of the world: "Can you distract me from the disaster? / Can you touch on me and not call me after? / Can you hate on me and mask it with laughter? / Can you lead me to the ark, what's the password? / I need humanity."
Ghost in the Machine then switches into track 13, "F2F", which manages to sound less like SZA and more like the All-American Rejects. I wasn't expecting to be taken back to 2009 in the middle of all the synth, choral backgrounds, and rap verses – but that's not to say it isn't a good song. The song's purpose is clearly to offer a transition into a different part of the album, into "Nobody Gets Me", but the sharp change between "Ghost in the Machine" and "F2F" is a little jarring. 
The pair of acoustic guitar tracks, F2F and Nobody Gets Me, are a brief change of pace for the album. When one song sounds more like Jimmy Eat World and the other like early-days Taylor Swift, their inclusion feels surprising, though not unwelcome. Though a touch incongruous, they set up a lighter tone for the next few songs.
"Shirt", one of the album's pre-released singles, is a brief departure into danceable trap, before diving back into the feels with "Open Arms", featuring Travis Scott. Scott made an appearance on CTRL, on the track "Love Galore", and according to SZA, Scott "always comes through for [her]." Their collaboration on this tranquil tune is a testament to their strength as a creative duo.
The pair of singles that begin to close out the album, "I Hate U" and  "Good Days", although drastically different in theme, somehow fit together. Where "I Hate UAs the album comes to an end, it is easy to hear how these two songs have earned millions of Spotify streams and countless praises. It feels good to come out of the album with something familiar, and something so high-quality.
The closer, "Forgiveless", is an epically old-school hit featuring musical legend Ol' Dirty Bastard. The song is a fantastic, energetic, endlessly catchy finale that leaves listeners hoping that this pair of artists will collab again.
SZA's last album, CTRL, is widely regarded to be one of the greatest R&B albums of the century. It would be absolute madness to try to come out with a follow-up that continues the quality of CTRL while bringing something fresh and new to the table. All in all, though it has its weak points, SOS succeeds. The album is experimental, innovative, and poignant – everything us SZA fans have been hungering for.
Leave a Comment
About the Contributors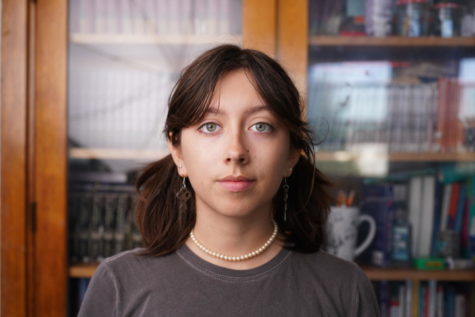 AURELIA HARRISON, Features & Opinion Editor
Aurelia Harrison is a junior at GHS, and in their second-year writing for the Gillnetter. They enjoy writing (obviously), music, reading, and are an avid...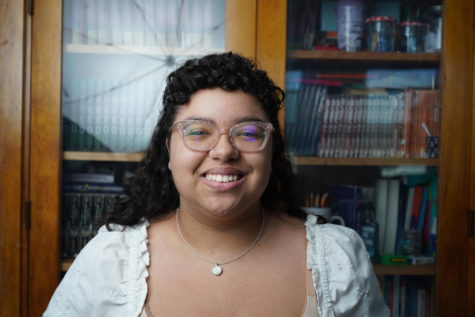 Cyan Clements, Staff Writer
Cyan Clements is a junior at GHS and is new to the Gillnetter this year. She enjoys sketching and painting and is a fan of music and many different forms...