Gloucester teachers wear black to mourn contract proposal
After receiving accolades for keeping schools open during last school year, Gloucester teachers say contract negotiations between the Gloucester Teachers Association and the School Committee are unfair, and proposed compensation is inadequate for the work put in to keep students in school.
Gloucester teachers wore black to work on Tuesday in solidarity, after demonstrating at GHS Monday afternoon, where negotiations between the GTA and the School Committee took place. Some teachers were holding signs which read "fair contract now" and "we cannot have praise without a raise."
"It was the teachers, ESPs and custodians who were the force keeping schools up, open, and running last year," Science teacher and GTA Vice President Rachel Rex said. "The school committee has 'rewarded' teachers with a contract that offers a 1 percent raise, decreases benefits, and institutes excessively burdensome protocols."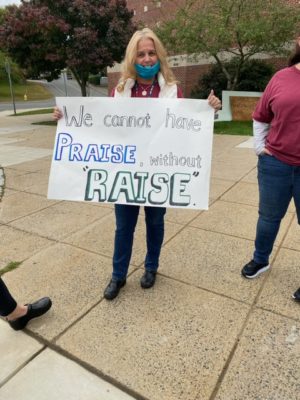 Governor Baker used the Gloucester school system as a model for other schools in the commonwealth, but despite this praise, the teachers have only been offered a 1 percent raise each year for the next three years, which is inconsistent with rising costs of living.
"According to the department of labor, in the northeast inflation is averaging 3 percent per year, and in many instances beyond that," biology teacher Eric Leigh said. "A one percent cost of living adjustment doesn't even meet the current rate of inflation. The proposal put forth by the school committee shows their lack of appreciation for quality teaching, flexibility, and dedication of their educational staff to the students of Gloucester."
 Rex said tying the one percent cost of living raise with step increases that already exist in the contract is a "a ploy that is misleading and muddies the water."
"The school committee is trying to say that they are offering more by citing raises that are already included in the contract by the various step increases," GHS Drama teacher Jessica Kirk said. "Considering Gloucester was used as an example by the governor as a school that stayed open during the entirety of the pandemic, it is disappointing to see how little all of that hard work is being valued in the negotiations."
Open bargaining continues on October 18th. Teachers will be presenting counter proposals and hope to come to an agreement in the coming weeks.