The Art of Resilience
Music and art classes harness creativity while distanced 
Picture this: You're a GHS student, getting up bright and early to sign onto your Chromebook for remote learning. Your schedule is full of awesome electives, like chorus and painting. But wait… your wifi lags like crazy, and you haven't touched your craft set since the second grade. How will you possibly make art with your peers?
Distance learning has posed unique challenges for art and music classes at Gloucester High. Creating a collaborative, creative environment online isn't quite as simple as leading a discussion or giving a lecture. But together, teachers and students are determined to succeed. 
Music
"I've had to deconstruct my entire curriculum since March," said chorus and band director  Daniel Fleury, "This year, I've split my classes into two major categories. 1 is the usual fundamentals; how to play, sing, and small activities to improve. Category 2 relates to the public; social media, outreach, and showing people that we are still creating. It won't be like a normal concert, but we are releasing content." 
Fleury and his students have a myriad of projects planned for the months ahead. Music trivia, a YouTube series that began last year, will be produced in a socially distant way, along with several new social media initiatives. The music itself is also being produced in a way that can be enjoyed by an online audience. 
"In the fall chorus usually learns 5 feature length songs, which takes 3-3 ½ months," explained Fleury, "With remote, we could only 1-2 pieces in that time that well. Instead, we're planning to take smaller snippets (16 bars) and produce those. They won't be feature length songs, but it will still be quality music. People love soundbites." 
The team even has plans to expand the program beyond it's pre-COVID scope. 
Said Fleury: "I got together with many North Shore band directors and we have decided to put together a giant North Shore virtual high school band. It's a big exciting project across multiple districts; Rockport, Gloucester, Ipswich, and more."
At the moment, however, the music department is still working on adjusting to the new normal. Singing and playing instruments can't be done with a mask, so even during in-person sessions, practicing is out of the question.
"It's been a slow pace setting up for playing and singing at home," said chorus and band director  Daniel Fleury, "It's challenging without the moral and musical support of your peers."
Students agree that the shift has been strange. "Band this year has changed in every way you can imagine," said senior Martina Gallo, "We went from practicing our music everyday to not playing our instruments at all. The energy in the music room is totally different."
Luckily, though, there are some silver linings. 
As Fleury put it: "Recording and working with technology is extremely relevant. The end goal is to learn how to mix, record, and video edit. I'm also excited for students to see how much they know when we start adding it all together."
When the Music Department begins producing content, you will be able find them on YouTube, Facebook, and Instagram. 
Art
GHS art classes have overcome similar barriers since school began. Teachers have had to work hard to simulate the school experience at home, particulate when it comes to materials. Students in many classes received art kits, each with their own set of tools which students would normally use in the building. 
"I can't teach without an equitable amount of materials," said art teacher Lorrinda Cerrutti, "Last year I had kids with whole sets of colored pencils, and kids without a single marker at home. What I did is a DonorsChoose. I raised about $1400 for my painting classes and for sketchbooks for all my classes. I used my regular classroom budget to buy the rest of the individual kits. Had I not supplemented it wouldn't have happened."
Curriculum changes based on available materials have also been necessary. 
"Painting has had the biggest change," said Cerrutti, "We used to use almost exclusively acrylic, with just a unit of watercolor and tempera cakes. Kids have to bring their brushes and paints back and forth now, [so we're doing mostly watercolor and tempera cakes]."
Classes that require technology and software have also improvised. 
As photography teacher Emily Harney explained: "For photography we use cameras on phones, which is great. Kids are liking the ability to use something smaller. A lot can't wait to get back to the real camera though. They edit online with Lightroom, which is accessible." 
Despite these solutions though, art education still looks completely different than it did before the pandemic. 
"I think the subject is by nature so tactile and hands on – it's really hard to have the same transfer of skills," said Cerrutti, "Even when I use recorded demos it's not as engaging. I also find it to be challenging to create relationships with my students. When I know their hobbies and backgrounds I can connect that to their work in class. Without any background it's hard to do."
Luckily, some good has come from all this. Harney has found that "in cohorts, smaller groups allow for better ability for students to communicate." She also stated that art classes give students an opportunity to "shut off their screens and move around."
Leave a Comment
About the Writer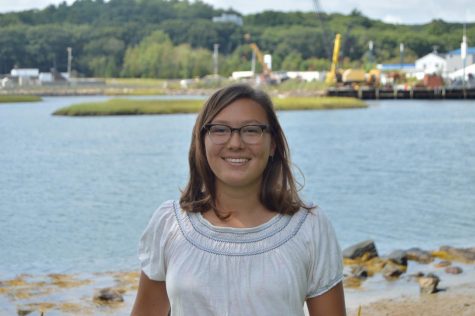 MILA BARRY, Editor-in-chief
Mila Barry is in her fourth year at Gloucester High School, and her third year on the Gillnetter staff.  Outside of writing for the newspaper, she's...