GHS revamps lunch selection with the help of the Wellness Committee
Students accustomed to wasting most of their meals are now clearing their plates due to more varied and healthful meal options in the cafeteria.
The new set up offers five different food options per day. There is a sandwich line, two hot food lines, a vegetarian option, and a combination of the two hot food lines. 
The lunch rotation will now also restart every three weeks, as opposed to the older five week rotation.   Each day, one of the hot food lines will offer a customizable food bar with meat and vegetarian options, such as a pasta bar, Mexican bar, Chinese noodle bar, and soup. 
Head Nurse Practitioner and Wellness Committee member Cindy Junkers said the change should create a better system for the cafeteria overall. After surveying students in September, the Wellness Committee listened to the requests of students, and created a plan to alter the cafeteria's options.
"They increased by one more line, which means it should be faster for kids to get their lunch, and there should be more food kids want to see."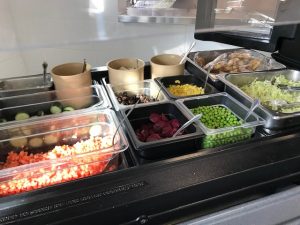 She also talked about the benefits to the change of conditions for cafeteria staff morale. 
"If kids see improvements, and if they could give positive feedback, that would be great for them as well."
Members of the 2020 GHS student counsel also helped formulate the new food. GHS senior Willow Phoenix believed it was important to gain perspective on the planning that goes into feeding GHS students. 
"Having the opportunity to be a part of the conversation about our cafeteria food has been a great experience. There are many rules and guidelines the committee has to follow, and seeing all the work that goes on behind the scenes is eye opening."
GHS student Darcy Muller appreciates the new variety of vegan options that are now provided. 
"It makes me want to actually get lunch," she said. "I haven't been getting lunch for the past month because I got sick of their salad. It was actually really good and makes me want to get lunch again."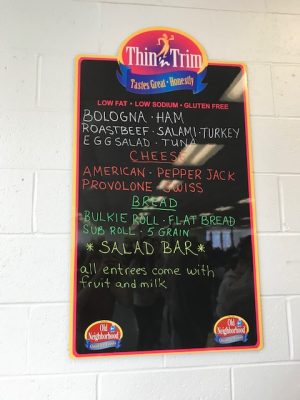 Junkers also said the committee plans to improve the environment of the cafeteria as well.
"We talked about someday getting round tables as opposed to rectangular ones, it makes it more inviting for meal time. We also want to improve the way the cafeteria looks. We asked Ms. Cerrutti to work with some of her students to paint the walls of the cafeteria," she said. 
Some GHS students are fond of the change. 
"There was a huge difference in the quality of the food and the options they provided. I actually finished my meal," said GHS sophomore Alexa Clements. 
"The quality of food was a lot better than normal school lunch. I got the pasta, with alfredo sauce, and I wasn't just taking one bite and wasting it. I ate all of my food." said junior Jenna Miller.
"I have always had school lunch my whole life," said Autumn Silva. "As someone who has food insecurity at home, School lunch was the only made meal I would get sometimes. So it was disappointing when it felt low quality. Now it feels like they actually care about us."