Arrivederci buona fortuna, Signor Basile
The man, the myth and the legend is retiring after nearly 40 years.
When walking through the language hall, students are bound to see many things: colorful flags, friends, their favorite class or even their favorite teacher. But, what students look forward to most,  is a cheerful, heartfelt greeting from World Language teacher Celestino Basile. 
Basile has been a fan favorite at Gloucester High for decades, however the time has come to say goodbye to the GHS legend.  After nearly 40 years Basile is retiring in June. 
"I am 65 years old, and I'm still young and energetic enough to find new opportunities," Basile said.  "Now is the perfect time to go." 
Basile began teaching at Gloucester High School in 1984, after earning his bachelors degree at University of Massachusetts Amherst, and his masters degree from Middlebury college in Vermont. 
His initial passion for teaching comes from his youth, when he was a language student. 
"My Italian teacher did not know Italian, but she was teaching it," Basile said. "I say this because when I spoke to her in Italian she answered in English and many times it was not what I asked."
This sparked Basile's lifelong interest in teaching world languages.  Although Basile may be retiring from GHS, this may not be the end of his teaching career entirely. 
"I am still planning to be involved in education after my retirement," Basile said. "I applied to Essex Community College where I used to teach night school, and now they need someone to teach during the day." 
Basile also hopes to be involved in teaching as a substitute teacher, for which he has already been offered a job.
For the past 39 years, Basile has made a significant impact on the GHS community, especially on his colleagues. 
"I have worked with him for probably 10 years, but I have known him for the longest time," said language teacher Teresa Gallo. "I have definitely learned a lot from him,  because he is such a positive force and always pushes everyone around him to do their best. The language department is kind of like a second family for all of us. He is the glue that holds us together, so I will definitely miss him when he is gone." 
Mr. Basile is not only a teacher, but also a friend, mentor, and travel enthusiast – often taking groups of students on trips to Europe, including countries such as Spain, Italy and Portugal. 
"It has been a pleasure working with him for all these years," said French Teacher Madame Finacey who has worked with Basile for 36 years. "He has helped us in so many ways – from making us work together to solve problems, to writing letters and everything in between. I will always remember our trips to Europe. We and the students always had such a fun time on those trips."
Mr. Basile has been at GHS so long, some of his former students are now his colleagues.
"It has been really special to work with him since I used to have him as a teacher," Spanish Teacher Jen Flaherty said. "He is like an uncle to me. I'm starting to have nightmares about him leaving. He is just the kindest person and is always willing to help us in any way he can."
"My favorite memories of him would probably have to be the day he wore two different shoes to school and didn't realize, as well as our Spain trips," Flaherty said.  "I will always remember him looking out for us ladies in the language department, and I hope that he has the greatest time during the next chapter of his life. 
Along with his colleagues, Basile has also had a positive impact on many of his students throughout the years. 
"He's always there for everyone, and he even helped me out with my grades," said sophomore Alex Laine. "He's basically like a grandfather to me. He taught me that there are forgiving people, because I was not the best student in his class,  yet he kept forgiving me over and over again. Now, I am one of his favorite students." 
"

 We have the power to influence students in a way which many times is unknown to us. Influence is the greatest gift one can give to a young child.

— Celestino Basile
Class of 2015 graduate Nina Logrande was fortunate enough to travel with Basile on a school trip to Europe. 
 "By chance, both of Mr. Basile's daughters were a part of the trip," said Logrande. "I became fast friends with both Sabrina and Daniela, and over the years we have become incredibly close and remain so to this day.  I feel so incredibly lucky that in this twist of fate, one of my favorite teachers has become a second father figure in my life.  I'm so fortunate to have had him as a teacher and mentor, and I know this sentiment is shared by many of his current and former students!  I wish him all the best in his retirement with the hopes of many happy years to come." 
 "He was the best teacher," said former student Sofia Gallo. "He was always so patient with the class and always made sure everyone understood the lesson no matter how complicated or how long it took, and he always had a smile on his face. Personally, since I grew up speaking Italian, there was still a lot I had to learn grammatically. But, I was able to learn that with Mr. Basile, and I still remember all of his tips and tricks to this day!" 
Throughout his time at GHS, Basile has been learning alongside the students, but not just about standard subjects. 
"I have learned that the GHS staff and community is very caring and compassionate towards everyone," Basile said. "I will definitely miss that." 
Basile also commented on the positive and "down to earth environment" that the students bring to the school, and their kindness towards those in the building. 
"The students are very positive at GHS, and they are always kind and helpful to those around them, making for a positive environment," Basile said.
Basile also said that being a teacher is a very rewarding job. 
"We have the power to influence students in a way, which many times is unknown to us," Basile said. "Influence is the greatest gift one can give to a young child."
Basile's advice to new and remaining staff: "Keep up the good work, don't lose hope, and always try to be the best teacher you can possibly be every day because your students count on you."
View Comments (2)
About the Contributor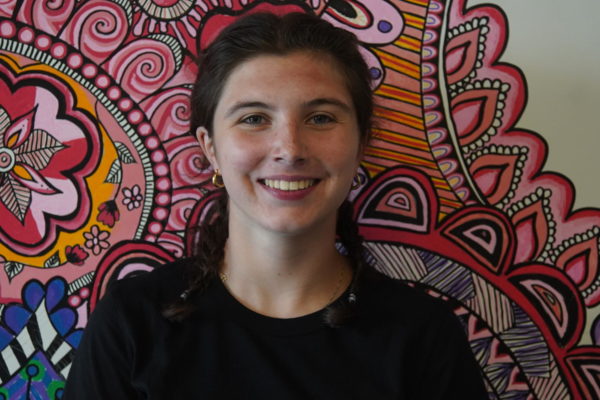 SOFIA ORLANDO, Editor in Chief
Sofia Orlando is a senior at GHS and is Editor in Chief for The Gillnetter. She is a member of the National Honors Society (NHS) and has won awards for...