Interview with Lila Olson
1. What has remote school taught you about real school?
Remote school has made me feel remarkably more thankful and appreciative of going to physical school each day.  I really miss sitting in class, being face-to-face with teachers and with my fellow classmates. It's especially hard to stay connected with other students and their ideas about learning topics. Self- isolation truly is isolating in some ways!
2. In Feed, there's major irony in the fact that although young people have access to information constantly, they seem stupid. They aren't able to think critically or be curious.
Talk about the abstract skills that you learn at school and the learning process. Do you think that these skills and processes are important in shaping independent, dynamic thinkers? What role does school as we know it play in shaping a strong generation of leaders and thinkers?
Being physically in a class allows students to take in information and to see it being delivered by real people, their teachers. We can understand the importance of what we are learning when our teachers are raw and real and honest in their teaching. Taking in subject matter is important to our future  and helps shape us into a better generation.
3. Consumerism and its implications are central to the plot and theme of Feed. Already much of the
education system has converted to online platforms (ei. Google Classroom, Canvas, EdX, etc). What are the benefits of this? What are the dangers? 
Truly it is hard to see the benefits of online teaching at the current moment. Any happy idea I had of "going to class in my pajamas" faded on the first day. It feels harder to be motivated online; there is never someone right beside you doing or teaching you the work. Deadlines feel more stressful but at the same time less real. For our classes, I think we can say we would rather be in a physical class. We can learn by our teacher voice and work with classmates next to us. The worry is that in a few generations, kids may not have ever experienced real school and won't understand why it is so important.
4. Do you think computers will ever be able to replace teachers?
Computers will never replace teachers in my mind but I fear that someday they will. My teachers have formed a nurturing and caring environment in which they help me to broaden my horizons and create my future. There is no bond like human bond.
5. In Feed, there's an important moment when Violet reminds Titus that only 73% of people in America have the feed. Socioeconomic barriers have also been a major fact for the GPS system, because not all students have access to a device at home (or to the internet).
How can this be made fair? What effect is this going to have on a population of students who (in many cases) already face adversity in their lives?
This is very tough. Although the school systems have worked to get computers out to everyone for remote learning, it is not the same as school. For many kids school is a place to get away from home. For whatever reason, most students need this learning time to be separated from their home lives. At home, often sibling and lack of space add onto the large list of reasons that work done remotely isn't completed or isn't completed to a good level.
6. How do you think this pandemic will shape our social, education, or political future?
My hope would be that after this pandemic, there is a resurgence of a more natural life. I have been trying to FaceTime or Skype people as opposed to just messaging. It's not the same but I can see them and hear their voices. They are real. I know I will see the time I can spend with them as a much greater reward when this is over. I hope people will learn to value natural human interaction and put down the electronics a little more often.
Leave a Comment
About the Writer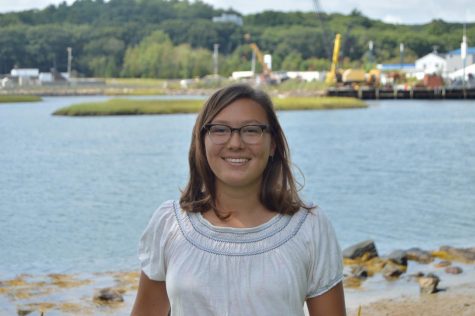 MILA BARRY, Editor-in-chief
Mila Barry is in her fourth year at Gloucester High School, and her third year on the Gillnetter staff.  Outside of writing for the newspaper, she's...