Undeterred by warnings, kids continue to vape
In the last few years, vaping, or e-cigarette usage, has come to the forefront of national conversation.  From students to educators and administrators, its an unavoidable issue that can be challenging to combat.  
GHS is no exception to this trend.  As school-wide and statewide initiatives to eradicate vaping  begin to take hold, it has become increasingly important to examine the changing landscape of vaping at the high school.  In other words, how many students are vaping, why, and are these programs making a difference?
According to a survey of 150 Gloucester High students, 40 percent have tried vaping at some point and 16 percent report vaping frequently.  
Of those students, 84 percent prefer to vape with friends rather than alone, and 81 percent prefer to vape at home rather than at school. 
In addition, 53 percent of students who reported vaping chose to vape nicotine.  Thirty percent chose marjuana, and the remainder used a mixture of both. 
When asked why they started vaping, students provided a variety of answers.  Peer pressure and curiosity were the main driving factor, but the head rush attributed to the ingestion of nicotine was also cited.  
As for why students continue to vape, it's harder to say. 
"It could be because they tried it once and it is an addiction, or because they [feel] they need to do it to be cool, or it could be a coping mechanism," said freshman AJ Porcello. 
He is right about the final statement.  About 40 percent of students who vape report having done it (at one point) to deal with a physical or mental ailment.
Based on this data, its unsurprising that students often feel like "everyone is doing it".  However, this isn't necessarily the case. 
"I think they are the same kids or small group of kids [who vape frequently]," said Dean of Students, Robert Gallinelli, "These are the ones struggling with it.  These are the ones going back; it's not the majority. The addiction is real. It's happening most of the time when [students] are in the bathroom so it feels like everyone is doing it."
This doesn't mean that vaping isn't a major problem though. 
"It was horrible last year, then the Slow Down policy made it better, and now its bad again," explained Gallinelli, "For people getting caught, it's the same or a little less than last year. During class time we've killed it, but it's during passing time that a lot of kids do it."
As of November 20th, 31 students were in PACE (GHS's in school suspension program) as a result of substance abuse related offenses.  
Administration looks to continue implementing strategies to reduce vaping among students. 
Said Gallinelli: "We are considering installing vape detectors in the bathroom.  I'm not sure if that's what we're doing, but it's a possibility."
In spite of all this though, there does seem to be one silver lining. 
"It's illegal in MA now, so there are more kids trying to stop and asking for help.  More reported stopping or wanting to because of the deaths," said Gallinelli.
Gallinelli has a message for any student struggling to overcome their vaping habit. 
"If you want to stop, come to administration or Amy Kamm or the health center. You won't get in trouble, but we'll find resources to help."
Leave a Comment
About the Contributor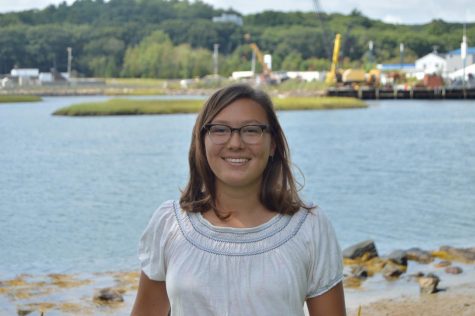 Mila Barry, Editor-in-chief
Mila Barry is in her fourth year at Gloucester High School, and her third year on the Gillnetter staff.  Outside of writing for the newspaper, she's...