GHS students honored at Scholastic Art Awards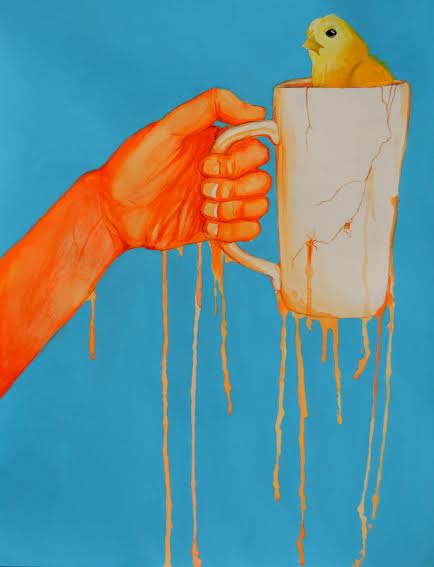 Gloucester High has a history of producing aspiring artists and writers, and is proud to present a new crop of Scholastic Art and Writing Award winners for 2015. Gold Key and Silver Key winners were honored at the Museum of Fine Arts Boston on March 12th.
The School of the Museum of Fine Arts, Boston (SMFA) presents thousands of regional awards to Massachusetts students each year. Students who entered their work were eligible to win a Gold Key, which is the highest award at this level, a Silver Key, or an Honorable Mention. 
"The winners were in a group of thousands of students in Massachusetts alone," said GHS photography teacher Emily Harney. "To have them selected out of that many is really unique, and having nine overall winners is pretty impressive for a school of 850 students."
"I was surprised when I found out I won an award," said Honorable Mention winner Joshua Cominelli. "I sort of entered just for the fun of it and put in work that I felt good about. I'm super grateful that they gave me the award, and to me, it was a major boost of confidence about my work."
Gold Key winners will have their work exhibited at Education First in Cambridge. Regional Gold key winners are being considered for national recognition in New York. National winners will be announced on March 16, 2016 on the Scholastic Art and Writing Awards website. Winners at the national level could go on to have their work displayed in Carnegie Hall.
"It meant a lot to me because it solidified the fact in my mind that I can put meaningful information out into the world through writing," said Gold Key winner Cara Burley. "I've always been interested in journalism and I'm more apt to pursue this path now that I know how rewarding it feels to be able to teach people about new things through writing."
"By being chosen as a recipient of a Scholastic Art award, it means that my work personally spoke to someone and therefore I have achieved one of my goals," said Honorable Mention winner Alexandra Grace.
Gloucester winners include:
Jadin Aubrey, Honorable Mention for Sculpture and Drawing and Illustration
Danielle Bauke, 2 Honorable Mentions for Drawing and Illustration
Cara Burley, Gold Key in Poetry
Joshua Cominelli, Honorable Mention for Photography
Vincenzo Dimino,2 Silver Keys for Photography
Alexandra Grace, Honorable Mention for Photography
Matilda Grow, Gold Key for Drawing and Illustration
Julia Johnson, Silver Key for Photography
Rachel Nearis, 3 Honorable Mentions for Drawing and Illustration