Travel to another island this summer: visit the DR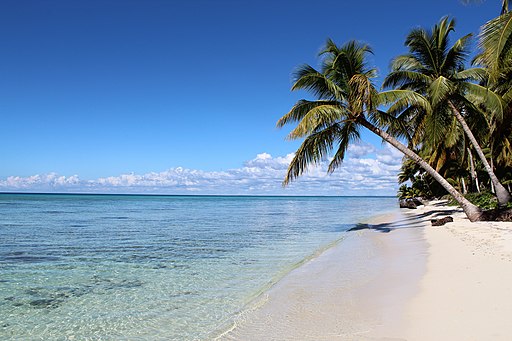 Summer is almost here, and if  you're looking for a reason to go to the Dominican Republic, here are 4 amazing places to spend a week of your summer vacation!
Saona Isla is located right next to Yuma, in La Altagracia province. It is one of the most popular extrusions that the Dominican Republic offers. Saona Island is famous for its mangroves, coral reefs, and golden beaches that surround the island. The name came from honoring Michele da Cuneo who was the first governor of the island. People say that is one of the most heavenly places in the Dominican Republic. 
This is a place where you can bring your kids as well. There is a Turtle Sanctuary, where the little ones can learn about how to save and take care of the turtle eggs that are laid on beaches. This is in Mano Juan where the best seafood is. 
So many nice typical dishes are served here. Both the adults and children will have fun here. One of the most popular dishes is their traditional grilled local fish. 
Playa Fronton is a hidden paradisical beach in Samana, located in Las Galeras. 
The only way to get here is by boat and getting there is an absolute adventure. This beach is considered one of the best beaches in the Dominican Republic. 
This beach is filled with crystal clear waters that surround the golden sand that everyone loves. This beach is perfect for a long nice walk with the family or even to rent out a boat and have a nice relaxed day at the sea. Whether you are on the land or in the ocean it is still very relaxing. This beach is so close that not many tourists are there, so there is not to worry about it being crowded or too chaotic.
 You can also go snorkeling and see the amazing coral reefs that you can even see on boats. Or go explore the caves that all look like a dream. There is a 91-meter wall that you can climb, where you can see the beautiful beach. There are many activities to choose from on this beach and many would recommend it! 
Puerto Plata is a beautiful place to visit as well. It is one of the first places where tourism started in DR, therefore it is very cheap to go there. 
Any place there is amazing but El Malecon is breathtaking. 
El Malecon is the boulevard of Puerto Plata. If you're looking for a relaxing day and don't want to spend too much money, here is the activity for you. Walking down that boulevard is a great option. There is even a beach called Playa Acapulco that has amazing waves and a gorgeous view of course. 
While you're down there, it is highly recommended to go to Chicharrón Light. It is a restaurant that is not far from the beach and it has 4 stars! Chicharrón is fried pork skin, which is a staple over there and what they serve in this restaurant among other things. People down there say that it has a charming atmosphere and that the pork is perfectly cooked!
The Scape Park at Cap Cana is the ultimate dream place to be. 
If you're looking for a getaway with your family, partner, or even your friends, this is the place to go. 
This place includes so many fun activities, including a hammock swing, water zip lines, a huge waterfall, jungle ziplines, underground caves, hidden cenotes (collapsed caves that create swimming holes), and swimming caves. All of the fun activities that you can think of are at this park, all for so cheap. Not only this but the place is so big that you can explore for yourself, where you can look for the cutest tropical animals. 
They have a parrot, iguana, and monkey island. Here is where you can chill and take pictures with the animals in their natural habitat. Of Course, we can not forget about El Rancho, where they have horses, ponies, goats, and other farm animals. The animals are said to be very friendly and fun to be around. They even have a restaurant there called, The Scape Park Beach Club. 
These locations are the place to be this summer.  When you visit be sure to send your photos to The Gillnetter!  See you there!