District updates COVID-19 school safety protocol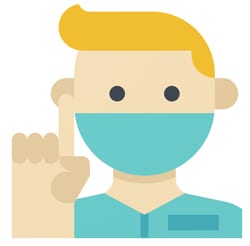 COVID-19 restrictions for Gloucester schools have been loosened following the Governor's announcement this week. The district's rules do not exactly parallel those released by the state, however, mask, cleaning, and other protocols have undergone significant changes.
Masks 
Inside the building, students and faculty must remain masked at all times. However, masks can be removed by students outside, whether or not social distance can be maintained. Likewise, masks are no longer required during sports practice and competition. 
Note that faculty masking protocol now deviates slightly from that of students. Staff members can only remove their masks outside if social distance can be maintained. Maskless students can be closer than 6 feet apart, but maskless staff cannot. 
Cleaning 
According to the Department of Elementary and Secondary Education, "Schools no longer have to avoid sharing objects. This includes classroom materials, items for physical education, or art supplies. Shared objects no longer have to be cleaned or disinfected between use and should follow the updated cleaning guidance outlined below." Balls will be allowed at recess again! 
These shared items must be cleaned according to the updated cleaning protocol. Surfaces and items designated "high touch", like desks, bus seats, and door handles, are now required to be disinfected only once per day rather than after every use.   
Quarantine 
Students no longer have to quarantine if they are contract traced, unless they were within 3 feet of the positive person and unmasked for more than 15 minutes. Vaccinated individuals do not have to quarantine. 
Superintendent Ben Lummis shared this information alongside some positive news on the district and city's progress against the coronavirus. 
"In Gloucester, we are doing very, very well with COVID. There are only 6 active cases in the entire city, and only one active case in the schools as of this afternoon," he said, "Further, there has only been one adult positive case in our schools in the past month. Altogether there have only been four cases of transmission in our schools across this year and no transmission out of doors. Thankfully, we are in much, much better shape than we were just a couple of months ago."