A final word on question 3
An East Gloucester School grad gives you one more reminder to check yes on November 3rd
If you've been paying any attention to local politics, you probably know that question three is a hotly contested topic on this year's ballot. The years-long process of finding a suitable fix for Gloucester's archaic elementary schools has come to a disputed conclusion. And with Election Day just around the corner, it's critical that all are well-informed about what's at stake for the future of education in the city. 
The exact wording of the ballot question is as follows:  Shall the City of Gloucester be allowed to exempt from the provisions of Proposition two-and-one-half, so called, the amounts required to pay for bonds issued in order to provide the necessary funding for the design, site work, construction and outfitting of a new East Gloucester/Veterans Memorial Elementary School.
What that means is that the City is requesting permission from citizens to raise property taxes by more than 2.5 percent in order to cover the cost of a new elementary school at Mattos Field for students in East Gloucester and Veterans. Should the override pass, it will cost Gloucester citizens approximately $20 more per $100,000 of assessed value of their property for 25 years. With the average home value set at around $507,597, most homeowners will see an added cost of around $100 each year. 
In total the project will cost $66.7 million, $26.9 of which will be covered by a grant by the Massachusetts School Building Authority. The other $39.8 will be provided by taxpayers. 
Despite this somewhat daunting figure, however, the EGS/Vets merger is without a doubt the most accessible option for updating schools that are in dire need of improvement. If we don't act now, Gloucester could easily lose the state money, jeopardizing our opportunity to make the change at all. 
Still not convinced? I'll lay out the details. 
Current buildings are in dangerous disrepair…
Last year, The Gillnetter published an article detailing the exact conditions faced by faculty and students at East Gloucester School, which can be found here. The short version of that description is this: the HVAC system, roofing, plumbing, and windows all need to be updated or replaced at both schools. Failing to do this will result in conditions that are unsafe and unsuitable for learning. And at 72 and 63 years of age respectively, it's rather counterintuitive to spend money rehabilitating the old facilities. Making them comply with new regulations will actually be more challenging than starting from scratch. EGS in particular faces issues that are nearly impossible to reconcile, such as sustained moisture damage. The Clam did a really nice job explaining the problem (and Q3 as a whole) in their Election Guide – I highly recommend taking a look if you want more information. 
Current buildings are cramped…
Neither EGS nor Veterans possesses the space necessary to provide for student populations. Classrooms are small, but more importantly, there are not enough of them. Students who require support must often meet in hallways, because there aren't spaces dedicated to counseling or extra help. Art teachers bring materials to their students via a traveling cart, and at EGS, music classes take place on the stage in the auditorium. 
Here's the comprehensive list of issues, as taken from the official website dedicated to the project:
Mechanical, electrical, HVAC and plumbing systems in the building are over 65 years old, and have deteriorated to the point that they are no longer usable.

Antiquated heating systems lead to distractions from learning- often the classrooms are too hot or too cold, and heaters are noisy and distracting.

The school is too small for its student body.

Lack of space has compromised the educational program and made it nearly impossible for teachers to meet the needs of all of their students. Small group lessons and interventions must take place in the hallway, amidst noise and other distractions.

There are no music or art rooms.

Fire Protection is inadequate. The building does not have an automatic sprinkler system.

The technology infrastructure is insufficient for servicing modern computers, networking equipment, and phones.

There are inaccessible and hidden hazardous materials within the building that would be costly and nearly impossible to remove.

In order for Gloucester to remain a competitive and economically viable city, we must offer up-to-date school facilities to our residents and to new potential residents.
This is the cheapest, simplest choice…
$39.8 may seem like a pretty huge sum, but fixing both EGS and Vets would be equally, if not more expensive. In a letter to the GDT last September, Jonathan Pope explained that "tearing down East Gloucester Elementary School and building a new school at the same site would cost $51 million." That's EGS alone, and in that situation we won't have a grant from the MSBA. The completely new consolidated building would cost $66.7 million, only $15.7 million more. 
Plus, overtime the cost of running the utilities and maintaining two buildings would far outstrip the cost of doing the same for one – especially because the new building would be a green building. And even if we did decide to fix up EGS and Vets, we would still have to reckon with logistical problems like lack of space.  
It's the most centralized choice… 
Nothing is perfect, but the chosen location would maximize the number of students living within the closest proximity to the school. Enough said. 
It will lead to new park space in East Gloucester…
Once the old EGS building is deconstructed, the property will be converted to public greenspace. A brand new park would be an incredible asset to the local community. 
If we don't approve now, we won't have a clear path forward… 
I've already mentioned this, but it merits reiteration. If we do not act now we will lose the MSBA grant.
Over the summer, the Gloucester Daily Times published an article outlining what will happen if the City doesn't approve the override. There are two alternatives to the current plan, the first of which involves submitting a new application with the MSBA. MSBA grants are competitive; this time we were in the running with 90 other schools in the state, only 17 of which received funding. Even if we did receive another grant in the future, the timeline would be pushed back several years – which means more time with the old schools in use. Doors would open in 2027, compared to 2023 if we move forward with the current plan. It would also cost more. $85 million according to an early calculation, which is an increase of about 20 million. 
The latter path, described by Superintendent Ben Lummis as "not the path you want to go down", does not involve consolidation or the MSBA. Fixing up both EGS and Vets would cost $36 million without program improvements (adding space, etc) and closer to $60 million with those improvements. This would likely still require a debt exclusion, and is not as sustainable as a long term solution. 
The new building is gorgeous…
Have you gotten a chance to check out the plans laid out for the new school? It's absolutely lovely, and would be such an amazing place to get to attend. If you're curious, watch this video narrated by current EGS and Vets principals. 
The issue boils down to this: times change and cities evolve. The 7 school model we've been using for the past several decades is simply no longer viable – financially or logistically. The School Committee in conjunction with the City and the Gloucester community have been working for nearly five years to discern the best way to remedy the situation. 
"
The issue boils down to this: times change and cities evolve. The 7 school model we've been using for the past several decades is simply no longer viable – financially or logistically.
Major arguments against the merge include a strong affinity for community schools – which is certainly legitimate. In fact, as a former EGS student, I can attest to the fact that I had a wonderful educational experience in that quaint old building. But as someone who also thrived at O'Maley and at the high school, I can tell you that it doesn't matter how many students are in a school, or how far school is from your house. What matters is the kind of environment teachers cultivate in their classrooms. What matters is the way they invest in their students as individuals. And never, in my Gloucester Public School career, have I had a teacher that I felt did not invest in me. 
"
It doesn't matter how many students are in a school, or how far school is from your house. What matters is the kind of environment teachers cultivate in their classrooms.
Elementary schoolers will be the lovable, laughable, imaginative, intelligent people they are regardless of the part of town where they attend class. And when EGS and Vets merge, the faculty members that make up the true essence of the school experience will travel with them. This project presents positives for all involved parties; it's an opportunity to enrich our community; to invest in the future of our children by providing them with an environment that is both safe and conducive to a multifaceted learning experience. 
As for those who are uncomfortable agreeing to a tax increase, I can only say this. Everybody has a stake in local schools. Education is everything. It is the key to developing in young people the capacity to make compassionate decisions about the world they will one day inherit. Equipping youth is an investment that will pay dividends for all – in currency much more valuable than cash, but also in cash itself, when our community's workforce and policymakers are intelligent decision makers.  
So vote yes on question 3. It's a vote for the future. 
View Comments (5)
About the Contributor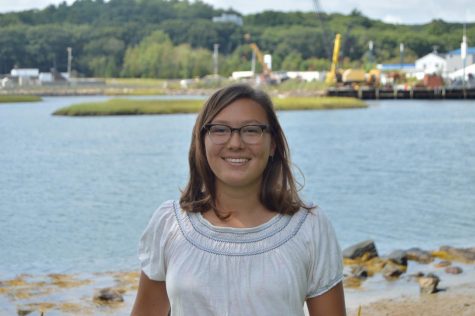 Mila Barry, Editor-in-chief
Mila Barry is in her fourth year at Gloucester High School, and her third year on the Gillnetter staff.  Outside of writing for the newspaper, she's...