Preliminary plans announced for return to school
The Gloucester Public School District has announced tentative plans for a hybrid return to school this fall. Administration has outlined different directives for the elementary, middle and high schools, each designed uniquely to minimize risk in various educational environments. 
The district has launched a website (click here to access) which provides explanations of return to school plans, specific dates, and other resources. For a more succinct description of what's to come, read on.
At Gloucester High School:
Three models were considered for implementation at the high school this year, but administration concluded that a split day schedule will best serve students. In order to reduce contact within the student body, high schoolers will divide into two cohorts (called Crimson and Cream). Within each cohort there will be two bubbles; a 9th/10th grade bubble and an 11th/12th grade bubble. Students will not interact with peers who are outside of their bubble or cohort. 
Each week, students will engage in person learning Monday-Thursday. One cohort will attend school for three hours in the morning and the other will come in the afternoon. For example, on Monday and Tuesday Crimson might come in the morning, and on Wednesday and Thursday Cream might come in the morning. Students will learn remotely while those in the cohort to which they do not belong learn in person. Everyone will learn remotely on Fridays. 
In school time will be divided into 4 periods, alternating between 4 academic periods, and 3 academic periods and 1 homeroom period. For example, a student might attend A-D blocks on Monday, and then E-G (plus a homeroom) on Tuesday. Periods will last 40 minutes. 
Passing time, starting time, and ending time of classes will be staggered to ensure that students do not interact with peers outside of their bubble. 
Out of school time will also be divided into periods, which will mirror in school periods. At home periods will last 45 minutes. 
Note that high needs and ELL students will be in person learning 5 days per week. Full remote learning will be an option, and will be reverted to if the pandemic worsens. 
At O'Maley Middle School:
O'Maley will implement a similar hybrid model, which will be based around split days. Students will attend school in the morning from 7:40am-12:15pm on Monday, Tuesday, Thursday, and Friday. 90 minutes of remote school will follow in the afternoon, and Wednesday will be fully remote. 
Everyday O'Maley kids will have a homeroom period, 2 core classes, a specialist block, and structured support time (either a remote learning assistance block OR a flex block). Students will still take 4 core classes, seeing each teacher every other day. Students will also be provided with a snack/mask break, as well as a 30 minute lunch break between in person and remote time. 
Unlike at the high school, all O'Maley students will be in school at the same time. 
 At Gloucester's Elementary Schools:
Administrators have laid out three possible scenarios for the elementary school return process this fall. Buildings are prepared to handle a full return – while keeping kids the minimum distance apart – so in person learning with alternations is being considered. These alterations include modified start and end times, grab-and-go lunch, and a possible shortened day to avoid the challenges of having students eat in school. 
Students will be split into cohorts and bubbles by grade level to minimize risk of Covid transmission. 
Should it be decided that the in-person model is not the safest option, 2 hybrid models have also been prepared. The first (called the In Person +1 hybrid) sees students in school for 4 hours, five days a week, with a short remote learning period after school. The second (called the A/B hybrid) sees two student cohorts, which would alternate the days on which they attended. The A/B model would also feature one fully remote day. 
Note that in every situation, elementary schools plan to provide extra in person learning time to high needs students.
For those wishing to attend, these plans will be presented to the School Committee in a public meeting on August 5th. 
About the Contributor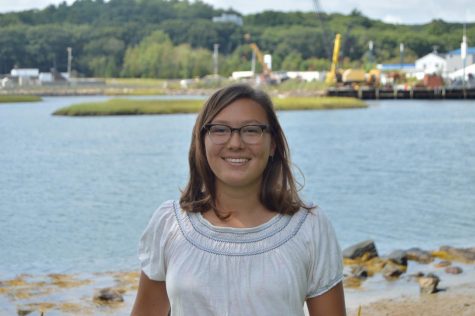 MILA BARRY, Editor-in-chief
Mila Barry is in her fourth year at Gloucester High School, and her third year on the Gillnetter staff.  Outside of writing for the newspaper, she's...