GHS students organize protests after the death of George Floyd
Hundreds gathered at the rotary on Monday to stand in support of the Black Lives Matter movement, and to protest the perpetuation of systemic racism in America. 
The event comes in the wake of a series of police brutality incidents which led to the murders of several African Americans citizens, including Ahmaud Arbery, George Floyd, and Breonna Taylor. 
The protest was organized by Youth Peace Movement, a student group dedicated to making peaceful change. The founders of this group are Gloucester High School freshmen Camilla Wilkens-Bowens, Jada Exama, and Ella Anderson. 
They hosted a protest for the same cause earlier last week with a smaller turnout, and decided to try again after getting the word out.  
"We hosted one on Saturday the 8th and we got good feedback so we wanted to make it bigger. People were listening," said Wilkens-Bowens.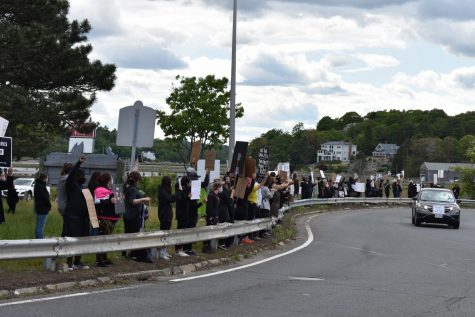 The Gloucester Police were on scene to ensure the protesters' safety, but the event was free of turmoil and was met with mainly support from the passersby. To those who disapproved of the protest Exama  said, "That is the reason why we are protesting."
Mayor Sefatia Romeo Theken turned out to support protesters and, in an act of solidarity to honor George Floyd, knelt for 8 minutes with the student organizers. A Gloucester police officer also participated in an 8 minute vigil, as did Senator Bruce Tarr.  
Towards the end of the protest, student organizers circled the crowd, thanking them for showing their support. Now that they have had one success, they hope to continue making an impact in Gloucester.
Said Anderson: "[This protest] means everything because it helps to know that people are supporting. We want to do a pride protest now that we know that the community has our back."
Another student protest in support of Black Lives Matter will be happening at 1:00 p.m. tomorrow at the Fisherman's memorial.