Barack and Michelle Obama to deliver commencement speeches for the class of 2020
The Obamas will participate in multiple graduation events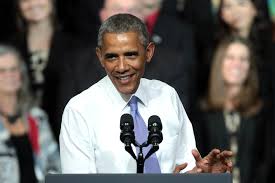 Saturday, May 16th, news stations ABC, CBS, FOX, NBC, and others will be broadcasting a multimedia graduation event commemorating the Class of 2020. After dozens of requests, former President Barack Obama and former First Lady Michelle Obama will be hosting a televised and virtual broadcast (and will be hosting yet another virtual event in June).
"Graduate Together: America Honors the High School Class of 2020" will be a 1-hour broadcast, featuring futher guests such as  LeBron James, Malala Yousafzai, the Jonas Brothers, Yara Shahidi, Bad Bunny, Lena Waithe, Pharrell Williams, Megan Rapinoe, H.E.R. and Ben Platt, and the event is being hosted by XQ Institute, The LeBron James Family Foundation and The Entertainment Industry Foundation.
"Show Me Your Walk, HBCU Edition" will be a 2-hour virtual commencement program. It will be livestreamed on May 16 at 2 p.m. ET.
Finally, on June 6th, the Obamas will be joining Youtube's "Dear Class of 2020," which will stream at 3 p.m. ET. Both Obamas will be presenting individual commencement speeches as well as a joint message for students. This event will feature global leaders, celebrities, creators and more, including Malala Yousafzai, Sundar Pichai, former Defense Secretary Bob Gates, former Secretary of State Condoleezza Rice, Lady Gaga, Alicia Keys and Kerry Washington.