Five movies to watch during quarantine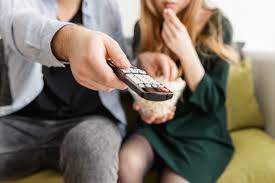 During these uncertain times, we all need a way to get away. However, it is very difficult to. We always want to get the latest information on social media or the news. These are very stressful times. I believe that the best way to get away without leaving your living room is watching a movie. A good film can put you in the shoes of the characters. Below I put five movies that I believe can pull you out of the shelter in place and put you somewhere completely new.
1. Grand Budapest Hotel
The Grand Budapest hotel is eye-candy for its viewers. With its bright, vivid colors and stunning use of miniature models, it is sure to pull you off of your couch for its hour and 40 minute run time. The movie takes place in 1930 at a European ski resort called the Grand Budapest Hotel. It recounts the adventures of Gustave, a concierge, and his lobby boy best friend Zero and their journey to protect an enormous family fortune and a priceless renaissance painting. It is directed by one of the most original directors ever, Wes Anderson who is famous for his breathtaking visuals. It is sure to pull you out of your living room and put you in a completely different world.
2. Speed
Speed is a stereotypical, cliche action movie. However, it's cliches and predictability is what makes this movie awesome. It stars a young Keanu Reeves, who plays Jack, who must save a bus full of people by preventing the bus from going under 50 miles an hour. It has enough action for three movies and is 166 minutes of pure adrenaline. The movie also has amazing performances from Dennis Hopper, who plays the villain, Sandra Bullock, who plays a Spunky passenger and Alan Ruck, an annoying tourist trapped on the bus. Speed is sure to distract you from these extraordinary times.
3. Eternal Sunshine of the Spotless Mind
Eternal Sunshine of the Spotless Mind is the exact opposite of Speed. Instead of a gritty action movie, it is a Sci-Fi Drama. It is about a man named Joel Barish (Jim Carey) who is informed that his ex-girlfriend Clementine (Kate Winslet) recently had all memories of him wiped. Joel then proceeds to have the same procedure done. Over the course of the film, he watches his memories of her slowly slip away. This movie is stunning, watching the evolution of Joel and Clementine's relationship just to have it slip away before your eyes. This movie is an amazing change of pace from Jim Carey's usual performances and he is amazing in this film. I would highly recommend this film.
4. Superbad
Superbad is one of my favorite comedies of all time. It stars Michael Cera and Jonah Hill who play two best friends (Evan and Seth) who seek help from their acquaintance Fogell (Christopher Mintz-Plasse) to get alcohol to bring to a party. The film is endlessly quotable and has some of the most legendary moments in comedy film history like the infamous McLovin' scene. It is one of the most accurate portrayals of high school awkwardness and its authenticity helps the audience relate to the characters. Every viewer will certainly be able to relate to at least one character in the film.
5. The Good, the Bad and the Ugly
The Good, the Bad and the Ugly is a monument of cinema that will never be paralleled. At a jaw-dropping 3 hours and 6 minutes, it will certainly immerse you into its Southwestern setting. It follows Blondie, played by Clint Eastwood, and his wanted partner Tuco racing against Angel Eyes to find $20,000 buried in the desert. My favorite part of this movie is  the score. The score is among the greatest of all time. It is commonly played and parodied up to this day. It also features some of the finest cinematography I have ever seen with stunning long shots and intense close-ups. It might be the best way to spend 3 hours and 6 minutes during quarantine.