LEAP for Education offers summer internship program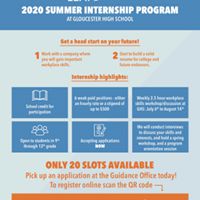 Interested in a six week summer internship program that offers pay, credits, and experience? The LEAP for Education program is organizing another summer workshop focused on workplace skills and education. 
This six week program runs workshop programs every Wednesday from July 6th to August 14th lasting two and a half hours in the GHS library. The dates and times can be scheduled for change.
Jobs offered by the program are positions at local businesses throughout Cape Ann, these businesses offer flexible hours and adequate pay or competitive stipends. Students will also learn requirements needed to obtain certain jobs anywhere from a cashier to a host at a local restaurant. 
When the sessions begin, students are obligated to attend a once weekly workshop where they will be enriched with valuable workplace skills. In the days between each workshop, students are expected to work at their new or existing jobs where they apply their newly obtained skills.
"Students are gaining networking opportunities and connections from local business representatives and their professions at work." said program coordinator and leader, Joanne Leavitt. 
Participating and completing the internship program offers 2.5 elective credits at Gloucester High School. This workshop is crucial for building a strong college resume. "This is a huge advantage on college resumes, it shows motivation and commitment to learning, all of which are skills colleges are looking for." said Levitt.
GHS sophomore Faith Brown participated in the program, interning at the Second Glance thrift store in Gloucester. "The summer internship helped develop workplace skills that are vitally needed later in life by teaching me how to more effectively communicate with others and also taught me interview skills and how to develop a resume." said Faith. 
Guest speakers and mentors also help develop additional skill sets beyond those of workplace etiquette such as college resume building and skills for life after college.
"Doing this program will give you an edge, making you more competitive candidates for jobs and colleges," said Leavitt.
Although there are Coronavirus concerns regarding the beginning of the program, it is still set to run this summer.
"We are still planning to run the program, it might look slightly different but the employers we spoke with are still planning to hire this summer." Leavitt commented. 
For more information, contact Joanne Leavitt at jleavitt@leap4ed.org or reach her via phone at 774-270-0119 for any additional questions.