Innovation breeds creativity in Cabinet Making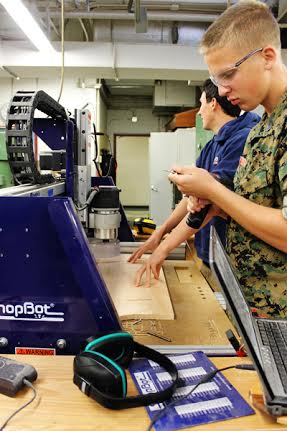 For some students, the vocational wing is a distant uncharted territory, through which they have never been able to travel.  Cabinet Making, with teacher Tim Rose, is one of many classes offered in the vocational wing, those students may want to explore.
Last fall, the Gloucester Education Foundation funded a new, intricate machine for the Cabinet Making class called the Computer Numeric Control.  More commonly referred to as the CNC, this machine allows students to design projects with the assistance of Computer Aided Design, also known as CAD.
"It's a great opportunity for G.H.S students", said senior Hannah Pastagal who was part of the first group of students to use the machine.  "It can cut more intricate designs that we weren't able to achieve previously. It allows people at any level to succeed."
Students in Cabinet Making are currently working with the CNC to create a new sign for the Gloucester Athletic Hall of Fame.
According to Pastagal, taking CAD before working with the CNC helps, although it is not required.  Anyone in Cabinet Making who is interested in using the machine is allowed to use it after the proper training.
"It's awesome, but you need to have an understanding of it," said senior Michael Munroe. "It's not too easy to use."  When they first got the machine the students watched video tutorials to get a better understanding of the CNC and how it operates.
First, students create a design on the computer, then hook up the computer to the machine, which can then create the design. The CNC is used with wood although it has the capability of being used with metal.
"It allows me to incorporate STEM materials into the curriculum," said Cabinet Making teacher Mr. Rose, referring to the acronym used to incorporate science, technology, engineering and mathematics. "I have the potential to incorporate every class taught at G.H.S. in this class; geometry, science, history, etc. A wide range of skills help in all aspects of life."
Pastagal recommends Cabinet Making for students looking for "a great hands-on experience, that teaches skills students can use  in the real world."
"It's so cool to build something and see the product," said Pastagal. "This is a very safe environment. You are not forced to use the tools."