My quest for the best everything bagel in Gloucester
The Gillnetter's Cam Muniz searched high and low for the perfect everything bagel.
Everyone loves a bagel. But there is something about an everything bagel that is unparalleled. The perfect blend of garlic, onion, poppy seeds, sesame and salt dances on the pallet as the perfect breakfast food. I sampled six local options and chronicled the results here.
Day 1: Starbucks
My first stop on my bagel adventure was at the massive coffee chain Starbucks. Luckily, I got the last of the everything bagels. I ordered an Orange Juice with my bagel and waited a few minutes until my name was called. I grabbed my bagel and opened the bag to reveal a warm everything bagel. However, I was very disappointed when I realized that the cream cheese was on the side, not on the bagel. It also appeared very watery. This was an instant blemish on their grade.
The Bagel was toasted pretty well. It appeared slightly overcooked but I could not taste it. It was a slightly different bagel than one that I was used to. It was extremely soft, contrasting with the typical bagel that is crunchy on the outside. However, I liked this change. The amount of "everything" on the bagel was standard but by no means excellent. Overall, I liked this bagel. It was solid.
Bagel: 36/40
Cream Cheese: 10/20
Everythingness: 27/30 
Toast: (8/10)
Grade: 81 (B)
*Note: The Orange Juice was very good.*
Day 2: Cape Ann Coffees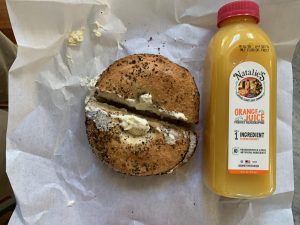 Cape Ann Coffees is teenage heaven. GHS students can commonly be seen here getting breakfast pastries and coffees. I also enjoy this coffee shop. I have eaten their bagels before and they were amazing. However, this time was not my best experience. I pulled up into the drive-thru at around 2:45, 15 minutes before closing. I received my bagel and I anxiously anticipated eating it. When I unwrapped my bagel, the first thing I noticed was the surplus of cream cheese on it. It was covering the paper wrapper and the top of the bagel. I also noticed the extreme lack of "everything" on it. At first glance, it looked as if they accidentally gave me two bottom halves, (a bagel sin) but my eyes deceived me. It also looked burnt around the edges. As I sank my teeth into it, it was crispy, contrasting with the Starbucks bagel I ate the day before. The cream cheese was thick and tasty, thoroughly occupying the center of the bagel. Overall, this bagel disappointed me because of its messiness and lack of everything.
Bagel: 35/40
Cream Cheese: 17/20
Everythingness: 12/30 
Toast: (6/10)
Grade: 71 (C-)
Day 3: Dunkin' Donuts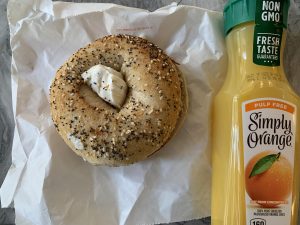 Dunkin Donuts; A staple of New England Culture. It is probably the most popular coffee and donut shop in this area. I went here expecting a standard bagel, and that is exactly what I got. The appearance was standard, except for the massive glob of cream cheese in the middle that I was dreading. The bagel was a little bit cold, but that might be the result of the five-minute drive home. It was toasted pretty well, with no burns. It tasted bland and flavorless, but had a pretty solid amount of "everything." I don't really have much else to say about this bagel because of its standardness. It was fine.
Bagel: 32/40
Cream Cheese: 13/20
Everythingness: 17/30 
Toast: (8/10)
Grade: 70 (C-)
Day 4: Jim's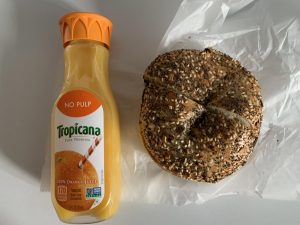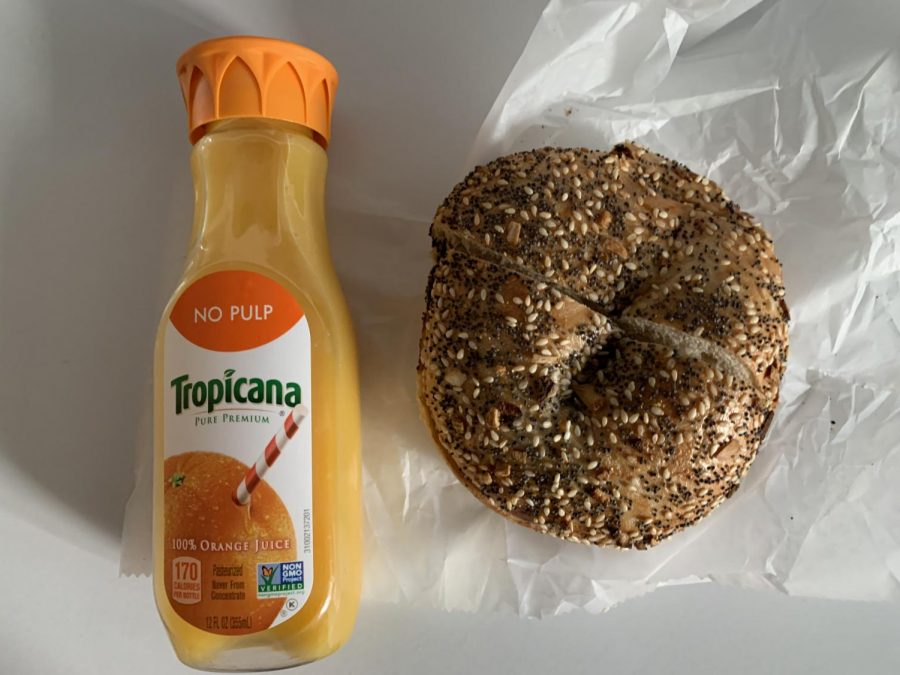 Jim's Bagels and Donuts proudly flaunt their store-baked bagels in their name. Because of this, my expectations were high. Needless to say, they did not disappoint. Their bagel was massive and doughy and was covered in "everything" and had an appropriate amount of cream cheese. It was a little bit burnt on the edges, however. But once you got past the perimeter of the bagel, it was amazing. Easily, the best bagel I have eaten so far. I have nothing but praise for this bagel.
Bagel: 40/40
Cream Cheese: 15/20
Everythingness: 30/30
Toast: 7/10
Grade: 92 (A-)
Day 5: Stop and Shop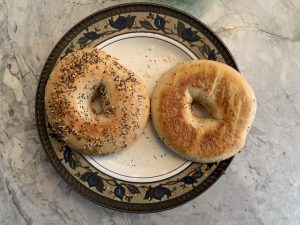 Stop and Shop was my least-anticipated bagel. When I walked into the dry and cold air of Stop And Shop I walked over to the bagels and took an Everything Bagel out of the plastic container. It felt sticky, gross and prepackaged. I checked out and the bagel was only 79¢, a pretty good deal. The downside to buying a bagel from Stop and Shop is that you have to toast it and put cream cheese on it yourself. However, this can be viewed as a good thing. People can customize their bagels as they please. They can burn their bagels to a crisp if they like it that way. I did a standard toast and put a standard amount of cream cheese on it. My expectations were very low going into this bagel. Upon eating it, my expectations were shattered. It was a very tasty bagel. It had a good amount of "everything" and was not too doughy. I liked it more than the bagels from Cape Ann Coffees and Dunkin' Donuts. And the 79¢ price tag makes it a steal for those who are looking for a good bagel for a low price.
Bagel: 35/40
Cream Cheese: 15/20
Everythingness: 27/30
Toast: 10/10
Grade: 87 (B)
Day 6: Lone Gull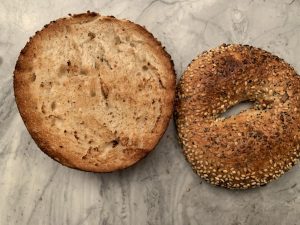 This bagel was burnt garbage. It was stale, making it painful to eat. It was also burnt, which made it taste bad. To add to injury, an inadequate amount of cream cheese was on the side. I had to put it on myself. I don't have much to say about this bagel except it was bad.
Bagel: (10/40)
Cream Cheese: (10/20)
Everythingness: (25/30)
Toast: (0/10)
Grade: 45 (F)
Conclusion:
I ate some pretty good bagels on my journey, but also some pretty bad ones. My favorite overall was easily Jim's Bagels and Donuts. However, there was a surprisingly good bagel at Stop and Shop. It is easily the best value. Places like Cape Ann Coffees and Lone Gull disappointed me and did not live up to the expectations I had.
Final Ranking
Jim's Bagels and Donuts

Stop and Shop

Starbucks

Dunkin' Donuts

Cape Ann Coffees

Lone Gull