Track team advances to States after NEC meet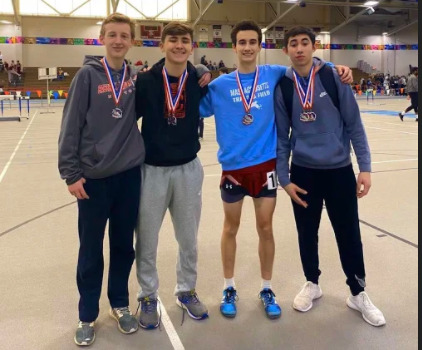 The GHS track team competed at the Northeast Conference Championship meet at Reggie Lewis Track Center last Sunday to conclude the last meet of the regular indoor season.
Overall, the boys and girls team each placed 6th in the conference with strong individual standout performances. 
On the boys side, some of these performances have automatically earned spots in the MIAA Division 4 Championship Meet. The boys 4×800 relay team of Daniel Hafey, Kai DeGuzman, Andrew Coelho, and Harrison Pelosi qualified for states with a collective time of 8:53. 
DeGuzman also qualified in the 300-meter dash finishing second with a new personal best time 37.17. Coelho also placed second and qualified in the 600m dash with a new personal best time of 1:27.81. Pelosi ran the 1000m with a time of 2:45.76 and placed fifth.
DeGuzman also jumped 19.425 inches in the long jump, and finished third overall. In the 55-meter hurdle finals, Trevor Fulford finished fifth with a time of 8.86 seconds.
The girls finished with two 4th place spots earned by Sedona Gillard and Ella Young. Gillard ran  the 300m dash with a new personal best time of 44.80. Young placed in high jump, jumping 4 feet 10 inches.
Gillard and Young also competed in the 4×200 relay with Rumi Thomas and Jenna Church. The team placed second with a time of 1:53.20. The girls 4×800 relay team which included Kira Berlin, Chandra Lavery, Kayla Pennimpede, and Grace Boucher placed 6th with a time of 11:06. Jenna Hoofnagle also placed 5th in shot put, throwing 28 feet and 9 inches.
"We had many top performances at the NEC Championship Meet this past Sunday. Both the girls and boys teams finished 6th overall and we had many terrific performances by our athletes," said head coach David Coleman. "I am very happy with the overall performance of both teams and am looking forward to competing at the state meet on February 15th." 
The next meet is the MIAA Division IV Championships on Saturday, February 15th, 2020. This meet will be held at Reggie Lewis Track Center in Roxbury.