1917 lives up to the hype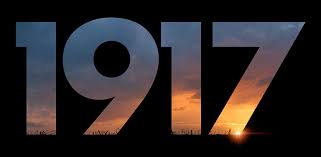 1917 is a film that is certainly bound to join the ranks of prestigious war movies such as Saving Private Ryan, Dunkirk, Full Metal Jacket, and Zero Dark Thirty.
The film follows two British soldiers, Lance Corporal Schofield (played by George McKay) and Lance Corporal Blake (Dean-Charles Chapman), through their journey across No Man's Land to deliver a message to stop an attack that will prevent many men, including Corporal Schofield's brother, from dying.
It's stunning cinematography and tremendous editing make it an achievement in cinema that is difficult to match. Legendary cinematographer, Roger Deakins, did an outstanding job of making this film look incredible.
The film was shot and edited to appear as one continuous take as if the viewer was attempting to make it across enemy lines with the two young soldiers. This feat is a difficult one to achieve, involving many long shots and clean editing.
Throughout the film, there are stunning scenes of the battlefield and the horrors it contains. Some of my favorite scenes include the two soldiers traveling in a German trench and the film's epic climax. 
The muted colors of the film perfectly match the dreary mood of World War I and are very aesthetically pleasing.
This film, running at 119 minutes, felt like the length of a television show. It's pacing was incredible and kept me, a very easily distracted person, engaged the entire time. It has well-placed action scenes that draw you in after the slower-paced walking scenes. 
I would definitely recommend seeing this movie on the silver screen for many reasons. One of which is to fully take in the stunning visuals described before. The second reason being the sound. It is stunning to experience the cinema's surround-sound while watching a film like this. Hearing planes soar above your head, and gunshots firing in front of you while bombs are exploding behind you is essential to fully experience this film.
The movie is nominated for ten academy awards, including Best Picture, Best Director and Best Original Screenplay. It also won two Golden Globe Awards for Best Motion Picture- Drama, and Best Director.
I firmly believe that this film is worthy of all of the praise and nominations it is receiving. If you like war films, 1917 is certainly a film you would like. If you don't like war films, you should also see 1917 because it is a monument of cinema.