Upcoming hits for the big and small screens
Hang on for a minute...we're trying to find some more stories you might like.
2019 made a major impact on modern movies and television, and it is clear that 2020 has some exciting new content being released throughout the year. Here is a compiled list of ten movies and ten TV shows that you should look out for this year. 
MOVIES 
Birds of Prey (and the Fantabulous Emancipation of One Harley Quinn) (February 7th)
Birds of Prey is an upcoming movie in the DC Extended Universe and is a spinoff of 2016's Suicide Squad. Despite Suicide Squad being a movie that lacked, in many aspects, Birds of Prey has a promising look to it. Following Harley Quinn (Margot Robbie) after leaving the Joker, and joining forces with Black Canary (Jurnee Diana Smollett-Bell), Huntress (Mary Elizabeth Winstead), and Renee Montoya (Rosie Perez) to save a young girl named Cassandra Cain from the DC supervillain Black Mask (Ewan McGregor). This will be the DCEU's first R-Rated film. 
The New Mutants (April 3rd)
The New Mutants is an upcoming horror/superhero movie in the X-Men franchise. The movie was set to release in April of 2018, but got delayed, and was set to release in 2020 after Disney acquired Fox Studios and its assets. The story follows five mutants discovering their abilities while held in a secret facility against their will. This movie introduces new mutants, Illyana Rasputin/Magik (Anya Taylor-Joy), Rahne Sinclair/Wolfsbane (Maisie Williams), Sam Guthrie/Cannonball (Charlie Heaton), Roberto da Costa/Sunspot (Henry Zaga), and Danielle Moonstar/Mirage (Blu Hunt). 
Antebellum (April 24th)
Antebellum is an upcoming thriller drama from the producers of Get Out (2017) and Us (2019). The story follows author Veronica Henly (Janelle Monáe) as she finds herself trapped in horrors that she must find a way to break free from. Not much is currently disclosed about the plot of the movie, but the trailer provides scenes that portray what can be assumed as Antebellum period America. The film will presumably tackle heavy topics like racism and slavery, during the period of the Civil War and spin them into a horror narrative.
Black Widow (May 1st)
Following the events of Captain America: Civil War Black Widow/Natasha Romanoff (Scarlett Johansson) is on the run and forced to reflect on her past. Black Widow will flesh out Romanoff's backstory as a character. It introduces new characters into the Marvel Cinematic Universe such as Yelena Boleva (Florence Pugh), Red Guardian (David Harbour), and Taskmaster. It is the second movie in the MCU to have a solo-female lead, following the release of Captain Marvel in 2019. It is also the first theatrical release in phase four of the MCU. 
Wonder Woman 1984 (June 5th)
WW84 is the sequel to 2017's Wonder Woman featuring Gal Gadot back in the titular role. It is another film installment into the DCEU. The story follows Diana Prince/Wonder Woman no longer at the turn of the century, but now in the year of 1984 as she comes into conflict with both Maxwell Lord (Pedro Pascal) and Cheetah (Kristen Wiig) while reuniting with her past love Steve Trevor (Chris Pine). This film will be the ninth installment in the DCEU, following the release of Birds of Prey. 
Soul (June 19th)
Soul is the upcoming project from Disney's Pixar Studios and is the first Pixar movie to feature a Black protagonist. The premise of the movie follows Joe Gardener (Jamie Foxx) a middle school music teacher with a passion for Jazz music. An accident occurs that causes Joe's soul to be separated from his body, and transported into what's called the "You Seminar" where souls develop and gain passion before being transported into a newborn baby. Working with souls he meets along the way, like 22 (Tina Fey) before it's too late. 
In the Heights (June 26th)
In the Heights is an upcoming musical movie based on the Tony Award-winning musical of the same name. In the Heights explores life in an NYC neighborhood known as Washington Heights, which has a very high Dominican-American population. The music, written by Hamilton creator and star Lin-Manuel Miranda will be the forefront of the feature film. The main character of Usnavi de la Vega will be played by Anthony Ramos, one of Miranda's former Hamilton co-stars. The story is a celebration of life in Washington Heights and will provide important Latinx representation in the Hollywood scene. 
Ghostbusters: Afterlife (July 10th)
Ghostbusters: Afterlife is the next installment in the Ghostbusters franchise. The story follows a single mother and her two kids, moving into a farm inherited by their grandfather. The town is experiencing unexplained earthquakes, and the children discover their family's link to the original Ghostbusters group. The movie stars Finn Wolfhard as Trevor, Paul Rudd as Mr.Grooberson, Mckenna Grace as Phoebe, and some of the actors from the original Ghostbusters (1984).
Eternals (November 6th)
Eternals is the second movie in phase four of the MCU, featuring a new group of superheroes known as the Eternals. In a story taking place over 7000 years, the movie introduces the Eternals, an immortal alien race created by the Celestials. It will also introduce the Eternals' evil counterpart known as the Deviants. It will star Angelina Jolie as Thena, Richard Madden as Ikaris, Kumail Nanjiani as Kingo, Lauren Ridloff as Makkari, Brian Tyree Henry as Phastos, Salma Hayek as Ajak: The leader of the Eternals, Lia McHugh as Sprite, Don Lee as Gilgamesh, Barry Keoghan as Druig, and Gemma Chan as Sersi.
West Side Story (December 18th)
West Side Story is an upcoming movie based on the Broadway musical of the same name. The classic story follows teenagers Tony (Ansel Elgort) and Maria (Rachel Zegler), despite having affiliations with rival street gangs, fall in love in 1950s New York City. The two gangs, Jets and Sharks deal with racial tensions between White Americans, and Puerto Rican immigrants during the period. This film is expected to follow more closely to the Broadway musical script than the 1961 film adaptation that took more liberties with the plotline. 
TV SHOWS
The Outsider (January 12th)
The Outsider is an upcoming HBO miniseries based on the Stephen King novel of the same name. The story follows the murder of an eleven-year-old boy in Flint City. All signs point to a man named Terry Maitland. As more mysterious things pop up, throwing a wrench in the detectives' case, horrifying answers begin to come out of their investigation. The show stars actors such as  Ben Mendelsohn, Cynthia Erivo, and Jason Bateman. Ten scheduled episodes are spanning over eight weeks, with the last episode airing on March 8th. 
Killer Inside: The Mind of Aaron Hernandez  (January 15th)
Killer Inside: The Mind of Aaron Hernandez is an upcoming Netflix Original true-crime documentary series focuses on former NFL star Aaron Hernandez. It delves into the multiple murders he was involved in and his later suicide at age 27. It will talk about his life story beginning with his childhood, and how his past experiences may have connected to his problems that occurred later in his life.
Ted Bundy: Falling for a Killer (January 31st)
Ted Bundy: Falling for a Killer is an upcoming Amazon Prime Original series focusing on the infamous serial killer Ted Bundy. This series reframes the case into a woman's perspective, highlighting how his psychological hatred and manipulation of women collided with the feminist movement and culture wars that were so prominent during the 1970s. This series stars Elizabeth Kendall, one of Bundy's former girlfriends, and her daughter Molly Kendall, telling their stories about Bundy.  
Locke & Key (February 7th)
Locke & Key is an upcoming Netflix original series based on the comic book of the same name written by Joe Hill. Locke & Key follows the story of three siblings Bode Locke (Jackson Robert Scott), Tyler Locke (Connor Jessup), and Kinsey Locke (Emilia Jones) move into their ancestral home after the murder of their father. In their home, they find magical keys that give them a vast array of powers. Little do they know, a demon wants to obtain the keys as well, and will stop at nothing to get them. 
neXt (Spring)
neXt is an upcoming science-fiction crime drama series airing on Fox. The premise of the series follows the efforts of Silicon Valley pioneer Paul LeBlanc after joining a Homeland Cybersecurity team dealing with a powerful rogue Artificial Intelligence called neXt with the ability to constantly improve itself. The official air date for neXt has not been released but is set to release sometime during this spring. 
The Falcon and the Winter Soldier (Fall)
The Falcon and the Winter Soldier is a Disney+ original set to air later this year. Following the events of the latest MCU film, Avengers: Endgame (2019) this show follows Bucky Barnes/Winter Soldier (Sebastian Stan) and Sam Wilson/The Falcon (Anthony Mackie) after Wilson assumes the role of Captain America. The show will feature Baron Helmut Zemo (Daniel Bruhl), the main antagonist featured in Captain America: Civil War (2016). The show is set to have six episodes. 
I Am Not Okay With This (TBA)
I Am Not Okay With This is an upcoming Netflix Original series, focusing on the coming-of-age genre. It is based on a graphic novel by Charles Foreman, who also wrote End of the Fxxxing World which was also adapted into a Netflix series. The story follows Sydney (Sophia Lillis) navigating high school, while dealing with her family, sexuality, and mysterious powers resonating within her. The series also stars Lillis' IT co-star Wyatt Oleff playing Stanley Barber. The series is set to have eight episodes, but it is not disclosed when it will premiere. 
Adventure Time: Distant Lands (TBA)
Adventure Time: Distant Lands brings the beloved Cartoon Network show back to life. The original  It is a collection of four hour-long specials, airing on HBO Max. It follows the original story of Finn and his dog Jake in the fictional land of Ooo and will have other characters from the original series such as BMO, Marceline, and Princess Bubblegum. The episode titles are "BMO", "Obsidian", "Wizard City",  and "Together Again." The official air date is not currently released. 
Monsters at Work (TBA)
Monsters at Work is an upcoming spinoff series of the Pixar classic Monsters Inc. (2001). The series follows the events six months after the original movie, with the town of Monstropolis now fueled with the sound of laughter. The series features original characters like Mike Wazowski (Billy Crystal) and Sully (John Goodman). It also introduces new characters like Tylor Tuskman (Ben Feldman) who is a mechanic that dreams to work alongside his idols, Mike and Sully. 
Y (TBA)
Y is an upcoming series on FX, based on the graphic novel Y: The Last Man by Brian K. Vaughan. The story follows a post-apocalyptic world in which a massively destructive event has wiped out every male mammal except for one human and his pet monkey. It will delve into the new world order of women as they explore gender, class, race, and survival. Actors such as Diane Lane, Barry Keoghan, Imogen Poots, Lashana Lynch, Juliana Canfield, Marin Ireland, Amber Tamblyn, and Timothy Hutton had been cast in the main roles.
About the Photographer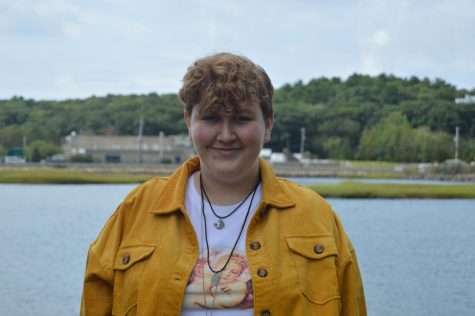 Emily Palk, Staff Writer, Editor
Emily Palk is a Senior at Gloucester High School, and this is her second year on the Gillnetter and first year as Editor. She has been part of the GHS...