The Case for Kap
On Saturday November 16, Colin Kaepernick took the field for an NFL event for the first time in over two and a half years. The former 49ers quarterback participated in a workout with reps from multiple different NFL teams in attendance. 
Getting the workout scheduled and actually underway was a process. Kaepernick's agents and the NFL had to work out many details before he could actually show the teams that he can still play. 
The strange conditions of the workout have many people questioning if the whole situation was just a stunt by the NFL. One of the main objections is that the workout took place on a Saturday. The majority of teams play on Sunday, meaning no coaches or general managers could attend the workout. Most workouts like these usually happen on Tuesdays, midweek.  
Even after the date was set, there was an issue involving location because of a waiver. The NFL wanted Kaepernick to sign an irregular waiver before the workout could begin at the scheduled location, the Atlanta Falcons practice facility. It has come out since that this waiver had more vague language than the standard waivers most players have to sign. Many think the NFL gave it with the hope of Kaepernick signing away some of his rights. 
In the end, Kaepernick's camp changed the location of the workout, and it took place at Charles Drew High School, just outside of Atlanta. This last-minute change in location was not received very well. Of the 25 teams that sent representatives to the original location, a minimum of only seven followed when it was changed. 
By the time the workout began there had already been so much confusion that many wondered how Kaepernick would perform. He proved that he's still got it, showing off his mobility and accurate, strong arm. 
"Colin Kaepernick got some very positive feedback from the scouts in attendance about his elite arm strength and ability to throw the deep ball," reported CBS NFL insider Jason La Confora. 
Also notable was what Kaepernick had to say after the workout. 
"So we're waiting for the 32 owners, the 32 teams, Roger Goodell, all of them to stop running, stop running from the truth, stop running from the people. Around here, we're ready to play, we're ready to go anywhere, my agent Jeff Nalley is ready to talk to any team. I'll interview with any team at any time."
So the question remains, will Kaepernick ever get signed by an NFL team?
The answer? Probably not. But, he should be. 
The most important aspect when considering players to sign is stats, essentially how good the player really is. 
When comparing stats of Kaepernick and current starting and backup quarterbacks, it becomes clear that he should still be playing. Only two starting quarterbacks have a better touchdown to interception ratio than Colin Kaepernick; Tom Brady and Jimmy Garoppolo.
Furthermore, by QBR, a type of holistic quarterback rating that incorporates factors such as passing, rushes, turnovers, and penalties, Kaepernick would be better than the starting and backup quarterbacks on 21 of the 32 NFL teams. 
Looking at the stats of some experienced players that were signed when Kaepernick was an available free agent proves that teams are scared to sign him. Four examples are Kellen Clemens, EJ Manuel, David Fales, and Matt McGloin. All four of these players had fewer career passing yards, lower touchdown-to-interception ratios, lower completion percentages, and worse win-loss records when they were signed. Still, teams are frightened by the idea of signing Kaepernick because of the potential uproar it could cause. 
When considering Kaepernick's protests in the past, it is important to go to the root of the issue. Many people who oppose the protest don't fully understand its purpose and main goal. Simply put, Colin Kaepernick began kneeling during the National Anthem to call attention to and protest police brutality and racial inequality in the United States. Kaepernick's protest is peaceful and effective. 
Taking a knee for the anthem is a completely peaceful form of protest. By kneeling for the anthem, Kaepernick and all who followed him are not hurting anyone. Instead they are doing something that is completely constitutional; sticking up for what they believe in. In fact, if they were prohibited from doing this, it would be violating one of their Human Rights; Their Freedom of Expression. There are no laws stating that the players must stand for the anthem. This makes it totally acceptable from a legal standpoint.
This protest has also been extremely effective. Whether people are for it or against it, they have been talking about it. At the height of the protest, in Week 3 of the 2017 NFL season, there were more than 150 players who took part in them. President Trump called more attention to the issue when he took to Twitter to speak out against them. 
Kaepernick has not had a job for an NFL team in the last two seasons. During this time, the protests calmed down and it seemed as if the issue had been, for the most part, taken care of. With this workout in the books, however, the fire has sparked again and the debate continues.
People who oppose this protest like to claim that it is disrespectful to veterans and to the country in general. This is questionable. If you were a veteran who fought for your country wouldn't you support the idea of a nation where everyone is equal? Wouldn't you appreciate an effort to improve racial tensions in a country that you risked your life for? Of course you would. 
The point of these protests is not at all to disrespect our veterans, our flag, or our nation. It is to raise awareness about inequalities so we can make our country a better place for all. Even if the issue came down to respect for the country the same question remains: Why should all of us stand to show respect for a country that doesn't show its respect for all of us?
Leave a Comment
About the Contributor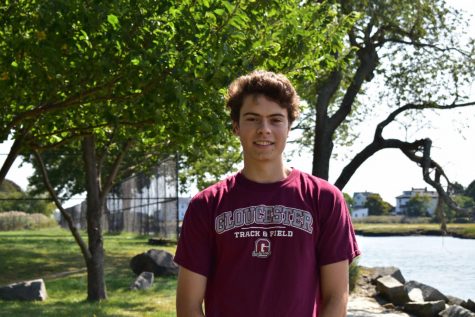 OWEN HARDY, Staff Writer
Owen Hardy is a Senior at GHS, and a second year staff writer for The Gillnetter. He plays soccer and runs indoor track and outdoor track. He is also the...