The latest on the impeachment hearings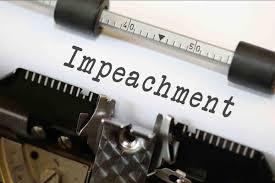 House Democrats are entering the second week of their impeachment inquiry into President Trump. Democrats are looking to prove that Trump offered Ukraine military assistance and an Oval Office meeting in exchange for investigations of former Vice President Joe Biden.
During week one, the House heard its first public testimonies from George Kent, Bill Taylor, and Marie Yovonavitch. Kent and Taylor testified in a joint hearing on Wednesday, where Taylor claimed he overheard a phone call between Trump and Gordon Sondland in which Sondland told Trump the Ukrainians were ready to move forward with the investigations against Biden.
We heard from Yovonavitch on Friday, where the former US ambassador for Ukraine testified that she felt threatened by Trump who told the Ukrainian President Yovonavitch was "bad news" and going to "go through some things". Rep. Eric Swalwell told reporters that witness intimidation against Yovanovitch "will be considered with other obstructive acts" among potential articles of impeachment against Trump.
This week, eight current and former US officials are set to testify about Trump's actions regarding Ukraine. Here's the schedule for this week:
Tuesday morning:

Jennifer Williams, an aide to Vice President Mike Pence, and Lt. Col. Alexander Vindman, a National Security Council aide

Tuesday afternoon:

Kurt Volker, the former US special envoy to Ukraine, and Tim Morrison, a National Security Council aide, next Tuesday afternoon

Wednesday morning:

US Ambassador to the European Union Gordon Sondland

Wednesday afternoon:

Laura Cooper, a deputy assistant secretary of defense and David Hale, the under secretary of State for political affairs

Thursday morning:

Former White House Russia expert Fiona Hill
Though all are important, Wednesday's appearance from Gordon Sondland could prove to be the most important in deciding whether or not Trump abused his power. It was revealed last week through Bill Taylor's testimony that Sondland was overheard on the phone with Trump outside a restaurant in Ukraine discussing the Ukrainian President's willingness to pursue investigations into former VP Joe Biden.
Trump has since tried to distance himself from Sondland since the impeachment inquiry was launched, but multiple accounts detail a close working relationship between the two. 
Another thing to watch is whether or not Trump will be testifying. Over the weekend, Speaker of the House Nancy Pelosi invited Trump to testify in his own impeachment hearing, to which he responded he will "strongly consider doing".