Engineering a future for women in Robotics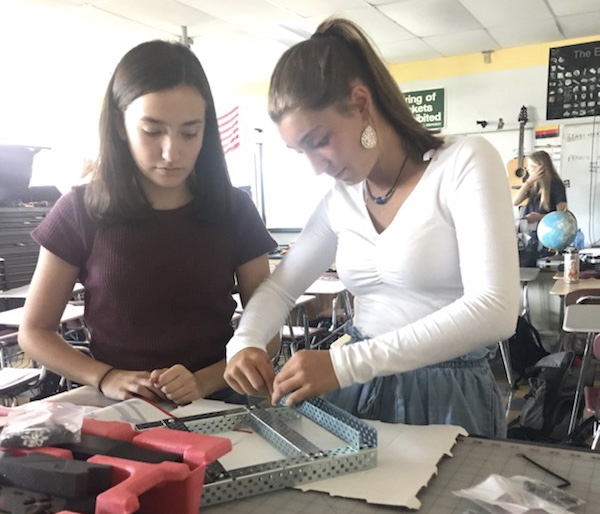 When GHS introduced Robotics class in 2009, there were no female students enrolled. Ten years later, the gender gap is narrowing.   
"Robotics started as a physics vocational class to get kids credits to graduate, so the class was more hands on," said Robotics teacher Kurt Lichtenwald. "Since not many girls were in vocational programs, not many girls enrolled in Robotics. Now we have a lot, but at first I had to talk girls into taking the class." 
Kelsey Lowthers and Marisa Neves are two of eight female students in Robotics this year. 
"We are building robots, we are learning how to code, getting robots to do certain tasks. Simple things,"said Lowthers. "But they can turn into bigger things in the real world."  
"Robots can enhance our way of life, making things easier for humans," she said. "Computers are never going to be able to do what humans can do, because they can't problem solve the way that humans can. But they can enhance human life."
Neves has been making strides in the Robotics program for two years.
"I'm interested in going into a STEM field, so Robotics is one of my favorite classes," said Neves. "It gives us a chance to be independent and really explore the subject for ourselves. We can build whatever interests us, which is really cool." 
According to the National Science Foundation, "women comprise 43 percent of the U.S. workforce for scientists and engineers under 75 years old" but in 1993, that number was only 23 percent. 
Both Lowthers and Neves are interested in pursuing careers in engineering or computer science. They encourage other girls to challenge stereotypes and enroll in STEM classes
"Women can do anything that men can do," said Lowthers. There are tons of double standards. This is just one barrier that is starting to break."