Señora Willson is ready for a new adventure
Who can tell a story, teach you Spanish, and crochet an afghan all at the same time? ¡Sorpresa! ¡Es la Señora Wilson!
After 21 years of teaching Spanish at GHS, Susan Willson is retiring this June.  
Willson began teaching in her thirties, she learned to speak and teach Spanish primarily through experience, sailing, and living in different Spanish-speaking countries.
She then studied English and Spanish language and literature, and earned her Masters in Kansas City, Missouri, where she previously taught for six years. Willson says she learned the language through her extensive travel, and her studying helped her polish those skills.
"The majority of the Spanish I learned was in the five years I spent in the Dominican Republic," said Willson. "At university, I broadened my vocabulary and improved grammar, and learned a lot about other cultures. For five years I had to live Spanish, they didn't speak a lot of English. Everything I did from buying bread, milk, the hospital, my neighbors, police, businesses… It was all in Spanish."
Deciding she wanted to teach Spanish on the east coast, she interviewed at Gloucester High School. Willson says the moment she interviewed she knew she would have a career here.
"I found a few schools on the east coast and interviewed, and when I got back to Kansas City I got a phone call from Gloucester. But, I thought I couldn't afford to go east again, and Sr. Basile said 'don't worry, we will interview you over the phone,'" recalled Willson. "The funny thing is, when I hung up the phone, I knew this job was mine. I just knew."
"He said he would let me know in a few days, and about ten minutes later he called and offered me the job."
Willson has had an adventurous life in both teaching in travel. Hailing from Southern Ontario, Canada, she has traveled extensively to the Caribbean, Dominican Republic, Bahamas, and the British Virgin Islands. She has also been able to travel through the school to Spain, Switzerland, Germany, and Italy.

Willson first heard of Gloucester through the Harry Chapin song "Dogtown". Through the many places Willson has traveled, she finds Gloucester to be a very unique community.
"When I first got here, I found it hard to break in that first year, because I was new to the community. But once people started bringing me into the community, I just felt that I'd been pulled right in, and I belonged. I think that is something that is unique to Gloucester, I lived in various places growing up, and I've never felt as though I was drawn into the community as a whole like I have Gloucester."
Willson's favorite part about teaching is the fact that she is able to constantly learn and tweak her techniques.
"Day one is the first day," she said. "I always say I'm going to do this, that, and the other differently, and that I want to try this. You don't carry the past with you. And it's probably the same for students, they get to start fresh."
During her retirement, Willson plans to stay in Gloucester, and spend time with her family.
"I have been so happy here, and everybody asks me if I'm going back to Canada, and the answer is no. I have everything here."
"I've only been able to visit my grandbabies during school holidays or the summer time. Now I can go in the winter time," said Willson.
Willson has impacted both students and teachers of GHS throughout her 21 years here, and many can recall all of her hard work for both the students and school as a whole.
"Ms.Willson  is open to talking about Spanish and language learning in a much broader context than just her classroom," said Willa Brosnihan.  "We had conversations about broader social issues as they related to the things she was teaching us."
"When Ms. Willson was the Student Council Advisor and I was the National Honors Society Advisor, and we had homeroom in the cafeteria together every day," said Chemistry teacher Carol Cafasso. "She has always been ready for a good laugh. I wish her the best in everything and happiness always."
As everyone at GHS knows, Willson is an avid crocheter, and is always working on a new project. She has been very involved with Hats for the Homeless, a clothing drive that collects winter garments for homeless people in Gloucester.
"She has donated the most clothing out of anyone. All handmade," said Sophia Hogan Lopez, who organizes the drive. "I don't even count it anymore she gives me so much stuff. All year round."
"She has a lot of positive energy that makes the environment a nice place to be in," said GHS junior Asha Egmont. 
Willson encourages her students to travel and try new experiences, and not to let themselves lose focus of that goal.
"It was really an opportunity I would have never had otherwise. I had some wonderful experiences." said Willson. "If you want to do it, you do it. The hard thing is to make a plan, set goals, and keep your eye on that goal."
About the Photographer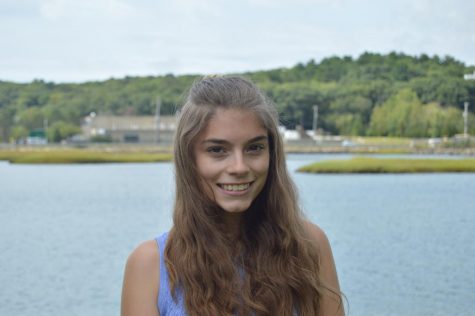 Danielle Denman, Staff Writer, Editor
Danielle Denman is a senior at Gloucester High, and is kicking off her third year as an Editor for The Gillnetter. She is a member of many clubs, including...