One Billion Rising fights violence against women
This Valentines Day, the activist organization One Billion Rising is holding the 6th annual One Billion Rising event at city hall in support of survivors of gendered violence. The event will be held in the Kyrouz auditorium at 5:00 pm.
One Billion Rising is an organization that attempts to draw attention to the one in three women who will be sexually assaulted or beaten in their lifetimes, give survivors a feeling of community, and advocate for legislation that protects the safety of women and girls.
Amber Gaumnitz, a Gloucester resident and a member of the Healing Abuse Working for Change (HAWC) team, expresses the prevalence of the issue. "One in four women will be assaulted by an intimate partner in her lifetime," said Gaumnitz. "One billion rising was created to try to call attention to those horrifying statistics and say 'no more'. I will no longer abide by this violence against women."
HAWC, along with the Coalition for the Prevention of Domestic Violence, the North Shore Rape Crisis Center, the Gloucester police department and mayor Sefatia Romeo Theken, is partnering with One Billion Rising to organize the day of dancing, speeches and solidarity.
"We are actually trying this year to focus on the additional risks in immigrant communities," said Gaumnitz, "and we have two speakers, both women of color, who are going to talk about how immigrant women are at additional risk."
One Billion Rising hopes to create an environment in which survivors feel safe and optimistic. The event will involve the organization's official dance performance, choreographed by choreographer, actor, and producer Debbie Allen.  
"Often times these kinds of events are somber and grave," said Gaumnitz. "We want this to be more about rising together and raising our voices. We want to bring these things out into the light. We want survivors to know that they're not alone."
Attendees are encouraged to learn the choreography ahead of time so they can take part in the dance. MAGMA (Movement Arts Gloucester Massachusetts) director Sarah Slifer Swift is offering two classes on the dance at MAGMA, 11 Pleasant Street, on Saturday, Feb 9th at 5-6pm, and Monday, Feb 11th at 4-5pm. If potential attendees want to learn the dance on their own, Debbie Allen has also made an instructional video, available below.
One Billion Rising views the dance as an act of activism, and it is part of their events worldwide. "It's just a way for women to reclaim their space and their bodies," said Gaumnitz, "celebrate their voices, and find strength in numbers."
About the Contributor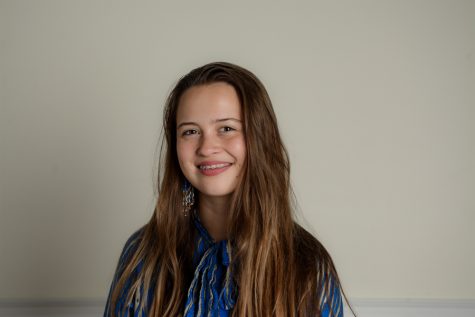 WILLA BROSNIHAN, Staff Writer
Willa Brosnihan is a 10th grade student at Gloucester High school. She has placed in top three of her category in the Sawyer Free Library's "Poetry...