Stress relieving sachets arrive in time for mid-terms
This month, the GHS Youth Advisory Council will be distributing free lavender sachet bags to the entire student body and faculty in time for midterm testing.
The bags will be filled with ingredients used to make essential oils, which have stress-reducing and relaxation elements. These ingredients include lavender, chamomile rosemary and peppermint, as well as salt to keep the scent fresh and strong.
The plan is to distribute the 950 sachets to English classes on January 18th with an encouraging message attached to each one. The project is primarily managed by health coordinator Karen Hurst, as well as nurse practitioner Linda Gipsetin.
Hurst believes that each student has a decision to make about which way they want to unwind from the stress of school, and that this project is presenting a healthy option for doing so.
"Each student has the capacity to control their stress levels through various relaxation techniques," said Hurst. "We hope that these herbal sachets will allow them that chance throughout the week."
The idea for this project had emerged from a visit from the Backyard Growers, who wanted to set up flower beds on the GHS campus.
Addie Shreffler, a member of Backyard Growers, is recruiting ROTC members to set up the flower beds. Shreffler and Hurst are also creating a workshop to teach the importance of herbal remedies, while also making face masks with these herbs and essential oils.
"They wanted the garden to be for medicinal herbs. We talked about the natural and healing qualities of herbs," said Hurst. "We want to start flower beds, so instead of having to buy them, we can harvest them."
Members of the Youth Advisory Council (YAC) have been working to help create these sachets during lunch their blocks. GHS junior and YAC member Nicolle Fernandes discussed the excitement she feels about the bags.
"They smell amazing to me. I don't want to be dramatic, but I fell in love with the scent," said Fernandes. "It makes you relax, it makes your day better."
YAC will also be displaying various messages regarding essential oils and the positive effects it has on the body on the club's new bulletin board across from the Health Center.
To join YAC, visit the Health Center during both lunches and help in sachet creation.
About the Photographer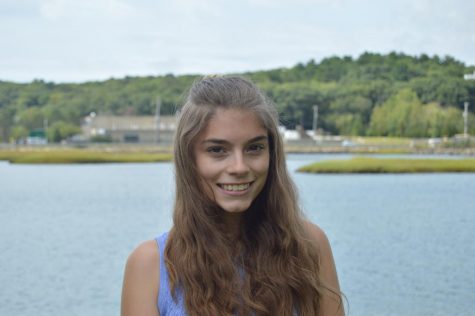 Danielle Denman, Staff Writer, Editor
Danielle Denman is a senior at Gloucester High, and is kicking off her third year as an Editor for The Gillnetter. She is a member of many clubs, including...