Video parody of GHS staff has more than 3000 views
Co-Creator Frank Ciolino says look for Part II next week
This past week, a video titled "GHS Staff portrayed by SpongeBob" took the school by storm. The video, made by Gloucester High School students Caleb Perry, Marisa Orlando, Owen Bryan, and Frank Ciolino, pairs teachers with clips from the Nickelodeon show SpongeBob. It has garnered 3,244 views since Saturday night.
Marisa Orlando is surprised by the number of views that they have received. "We were only really expecting 50 views, maybe 100," said Orlando. "I'm glad it blew up as much as it did, and people thought it was as funny as we did, because if it didn't I would feel like a moron."
The group made the video in about two hours at Caleb Perry's house. "I had invited my friends over to play super smash brothers on the Nintendo," said Perry. "As my friends walked in I was watching a video about the Hungarian language, and the next recommended video was countries as portrayed by SpongeBob. As we were watching we thought that instead of countries it could be places in Gloucester, and eventually that just turned into GHS teachers."

It was posted to Youtube on Perry's channel. "A lot of people don't know it was a group effort because it was on Caleb's account," said Owen Brian. "Because Caleb's name is attached to it he gets the fame and the blame."

The video featured teachers and staff such as Mr. Cook, Mr. Kobbs, Mr. Gallinelli, Mr. Telles, and Ms. Cafasso. "We have received complaints from a few teachers," said Orlando, "but most people knew it was in good spirit, it was a joke and it wasn't supposed to be malicious or offensive."
The friends are planning to make another "GHS Staff portrayed by SpongeBob" video. "We are making a part two," said Frank Ciolino, one of the contributors. "We will be finished by Monday morning."
The second video will include parts of GHS culture that weren't parodied in the first. "It won't include just teachers. It'll include different clubs, and substitute teachers," said Orlando. "Mr. Perrin, Mr. Perreault, Ms. Wilson, the bathrooms!"
About the Photographer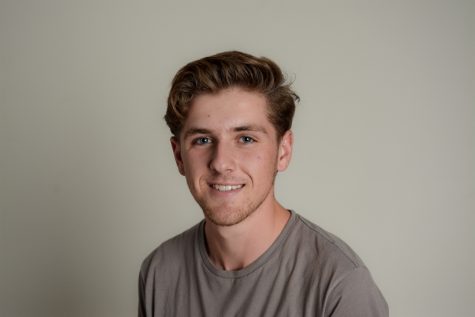 Fisher LeVasseur, Staff Writer, Photographer
Fisher LeVasseur is a senior at GHS and a first year Staff Writer of The Gillnetter. He is the Vice President of the National Honor Society and a four-year...