Gloucester Education Foundation celebrates community support
On Friday, October 19th, the Gloucester Education Foundation held its Annual Celebration, with the purpose of reporting the progress of school programs and expressing gratitude for the community's support.
The event was held at the North Shore Arts Association, where supporters, volunteers and donors, gathered.
Throughout the event, students from different school levels spoke about the benefits of investments into school programs.
Through song, three theater students from O'Maley Innovation Middle School expressed gratitude for the GEF's donations to the program. In 2018, the foundation invested $17,560 in the program, which funded updates to the auditorium's sound system and continued production of student performances.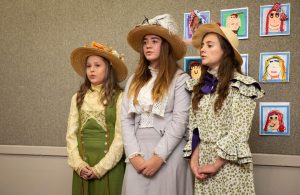 Dr. Safier, the Superintendent of Gloucester Public Schools, is an ardent supporter of these investments:
"Arts are at the heart of human thoughts," said Safier. "They're a blend of intellectual and emotional experiences."
Student Austin Monell also spoke at the event, recounting his experience in the Engineering and Robotics program at Gloucester High School. He displayed his self-made drone, which he maneuvered across the stage.
Monell's success in engineering has been fostered by the GEF's donations. In 2018 alone, the foundation invested over $13,000 in STEM programs at Gloucester High School.
Consequently, Monell was invited by an MIT professor to participate in "an internship at MIT to built an experimental aircraft."
"STEM programs provide opportunities for students with strong scientific background to explore future options," said Dr. Safier. "Society is fundamentally grounded in technology."
The event was designed to demonstrate the growth of the GEF, and the numerous dimensions in which it is cultivating a rich learning environment in Gloucester's public schools.
The GEF was founded in 2005, and since its inception, has raised over 7 million dollars for Gloucester Public Schools.
"Gloucester is a wonderful community, and it had a lot to offer, but the schools were in need of enrichment," said Jim Barker, an early member of the GEF Community Council.
"Tonight has been a great example of what has emerged from the foundation."