Citywide arts festival to showcase youth art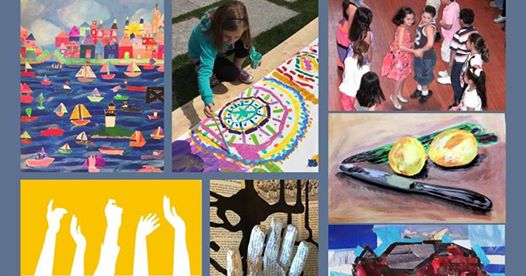 This Saturday, Gloucester will delve into an exploration and celebration of local student art during the 10th annual Arts Festival. The Arts Festival, a Gloucester Education Foundation program, allows students K-12 to share their art and music with their community. Youth art can be found all over downtown Gloucester; in local banks, the library, City Hall, the Cape Ann Museum, and the Sculpture Park.
Anne Pieterse, the art teacher at Beeman Elementary school, shared her excitement for the festival. About 340 of her K-5 students have made realistic fiber-art portraits, which will be displayed in the children's room of the Cape Ann Museum.
"It's pretty cool to have your art hung in a real museum when you're in elementary school," said Pieterse.
According to the Cape Ann Museum's website, Art Haven will also take part in the events of the day, providing paints and canvas for visitors to paint Gloucester's neighborhood icons. This activity can be found in the Cape Ann Museum courtyard.
Gloucester High School is also contributing pieces ranging from photography and pottery, to musical performances by the band and chorus.
Lorrinda Cerrutti, the drawing, painting, and studio art teacher at GHS shared that her students are showing graphite pencil drawings, acrylic and watercolor paintings, polymer sculpture, and masks. According to Cerrutti, students in the past have received illustration commissions from authors or other members of the community due to the exposure the Art's Festival facilitates.  
The clay classes, taught by Helen Duncan, are also contributing pieces to the festival.
"We are presenting three different sets of artwork," said Duncan. "Two of our Silver Key winners from the Scholastic Art and Writing Awards are exhibiting their work at the Cape Ann Museum. We are also showing an art installation composed of individual sculptures inspired by natural forms, such as sea pods, gourds, flora, and fauna. There's also an exhibit of student work: pouring vessels with accompanying cups, decorated using black and white pattern."
Clayworks student Lauren Alves will be exhibiting her "mug portfolio."
"They have certain characteristics that make them unique to my style of ceramics," said Alves. "I'm excited to exhibit my work because I've been throwing (on the wheel) for about 2 years now, and I've never gotten the opportunity to display it. I'm eager to see what the public thinks."
Duncan stresses the importance of the opportunity.
"It gives them a venue and opportunity to exhibit their work," said Duncan. "Art is a visual communication and needs to be seen. It's important for our students to have this exposure."
Photography teacher Emily Harney, whose students are hanging pieces on the main floor of the library, said that the Arts Festival "…opens up the door for larger conversations about how their art can translate into jobs and other skills."
Harney's students are showing pieces mostly centered in the straight photography movement, which means that the photographs undergo little to no manipulation.
"Projects range from focusing on the Rules of Composition to color and details on everyday objects that begin to create abstraction," said Harney.
In addition to visual art, Gloucester High students are performing musically during the festival.
The Gloucester High School chorus will be performing at the Cape Ann Museum, starting at 12:40. The group will sing some classical pieces, some pop music from the 70s and 80s, and a spiritual piece. The Docksiders, who will be performing on the City Hall stage at 3:30, are playing swing, jazz, and funk pieces.
In addition, the students at O'Maley Middle School boast a set list that has "something for everyone," according to band director Carlos Menezes, including new a-cappella pop arrangements performed by the chorus.
"Concert goers can plan on a little of everything, from John Williams and Woody Herman to Van Halen and Black Sabbath," said Menezes. "Artsfest allows us to show off while sharing what we are so passionate about. That connection with the community is single-handedly one of the most most powerful elements of live-music."
GHS student work can be found in the Sawyer Free Library. To view the official schedule of the Arts Festival, click Here.