GHS cracks down on school security, prepares for armed intruder situations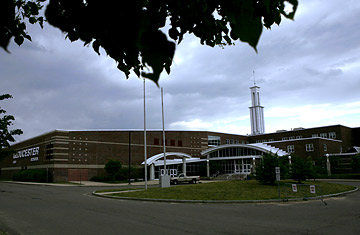 Gloucester High School has focused in on preparing students for emergencies and promoting a safer environment for students.
School safety is a priority for many students at GHS, and due to recent events that have put  a spotlight on the topic, students have spoken out about what they want for their school.
"School security plays a huge role in the success of students," said GHS junior Brandon Smith.  "With a lack of school security, students take their mind off of their school work and worry more about their safety. Students need to feel protected in school and shouldn't need to think about keeping themselves safe."
To combat this issue, Principal James Cook has joined forces with faculty and law enforcement officers to prepare for possible emergencies at the school.
"The recent high profile shooting this year has spurred us to continue the work that has already started," said Cook. "We aren't changing the plans, just elevating the desire to practice them."
"We were planning a training drill for the spring from the beginning of this year with the Crisis Intervention Team, which meets every month," continued Cook.
The Crisis Intervention Team is a group of GHS faculty that focus on creating a safer environment in the school.
"Our number one goal is to keep everyone safe," said GHS teacher and member of the Crisis Intervention Team Rayanne Menery-Sammataro. "We are trying to maintain a sense of calmness and security at all times."
The first step in doing this is to run a drill preparing students for an armed intruder. On Wednesday, April 25th, an assembly will be held for GHS students to train and prepare them for a drill. This will be an opportunity for students to learn, prepare themselves, and ask questions.
The actual drill will be held on Thursday, April 26th. During this drill, students and teachers will be practicing the ALICE philosophy. Teachers have also received ALICE training and will be guiding students in this drill.
ALICE is a set of principles used in schools during an emergency situation. It is an acronym that stands for Alert, Lockdown, Inform, Counter and Evacuate.
There will also be a parent information session on Monday, April 23rd in the GHS Library Learning Commons from 7:00-8:00pm. Both parents and students are welcome to attend.
Support will be offered to students who may experience anxiety due to the serious tone of the drill.
"It is important to us that we have plans for supporting students," said Cook. "Students might be upset by some parts of the training or drills, so it is important that we have support for them, especially when dealing with anxiety."
Cook has hope that the drill will help boost the confidence of the students.
"After practicing this drill, it is empowering," said Cook. "Hopefully students will feel that they're learning and practicing something, rather than just locking the door and staying in the classroom."
Teachers are now required to have their doors locked and closed throughout the school day.  GHS will also continue to hold different types of drills, such as fire drills and lockdowns.
As for what else GHS students can do to protect their school, "see something say something" is a code they can live by.
"If you see something that is out of the ordinary, such as a backpack in an area it shouldn't be in, someone in the building you don't recognize, or anything else, report it," said Student Resource Officer Michael Scola. "Nothing is not worth saying. If you see something and you feel you should say something, do it. Don't feel embarrassed."
Faculty and the Crisis Intervention Team are continuing their work to maintain a safe environment for students.
"I am proud of the members of the Crisis Intervention Team because they are truly dedicated to helping make this school safe," said Menery-Sammataro.