A guide to the best local cafes
Hang on for a minute...we're trying to find some more stories you might like.
We've all been there. Exhausted. In desperate need of a cup of coffee and some soul soothing. As students prepare for the final weeks of the third quarter, SAT, MCAS, and sports, a case of spring fever is inevitable. If this sounds like you, my guide to the best coffee shops on the Northshore may be just what you need.

First, let's start local.

-Gloucester-

Lone Gull: A local Main Street favorite, the door is constantly revolving, as it has the best specialty lattes Gloucester has to offer. From homemade banana bread, locally made cookies, tea, fresh smoothies, and sandwiches, to espresso and various brews with a rich and bold flavor, and ample seating inside and out, this cafe doesn't disappoint.
(My order – medium almond milk latte, and a slice of banana nut bread • $7)

SandPiper: A classic cafe with a French twist. The minute you walk in you'll fall in love with delicate and airy ambiance and the display case full of crisp baguettes, croissants, pies, and pastries ALL homemade. They also offer a variety of teas, cold brew, and freshly squeezed orange juice. Don't miss their weekend specials. I ordered my family's Thanksgiving pies from here which were amazing.
(My order – seasonal raspberry almond honey scone, tappo, and cold brew • $6)

-Beverly-

Tartine: I love this place. It's a bit more upscale than the other cafes, but you get the best of all worlds when you go here. Not only do they have an amazing (albeit small) selection of lattes and teas, they also have food. Everything is high quality and homemade. Open from 7 AM-7 PM almost everyday of the week, Tartine offers breakfast, lunch, and dinner. They have avocado toast, yogurt and granola, soup, salad, quiches, and tartines (an open face sandwich). You can't miss their display of lemon cake, chocolate almond cake, croissants, tarts, and their famous Belgium waffles (the owners recently moved here from Belgium just two years ago).


-Hamilton-Wenham-
Honeycomb: Opened less than a year ago, this place was an instant hit with me and a majority of the surrounding town natives. Another upscale cafe tucked away downtown, I think I say it all when I say they make their own cashew milk and honey. If they don't make it themselves, it will be from a local source.
(My order – cortado and lemon bar • $9)
-Salem- (the distance is worth it.)

A & J King: This place is my favorite. I think the staff here should know me by name at this point, since I've recently been frequenting this place about twice a week! They have a delicious wall of various breads and a display case of seasonally rotating homemade pastries, including apricot ginger scones, butternut squash danishes, Mexican chocolate cookies, coconut vanilla bundts, frosted cinnamon rolls, and Anise biscotti… just to give you a sampling of their selection.
(My order – iced hazelnut almond milk latte and kouign aman • $7)

Jaho: What sets this cafe apart is its late hours, as it is open until 11 PM every night of the week. My friends and I often go here on a Friday night to grab a latte and one of their decadent desserts. It's a warm and inviting place to just sit down and chat with a colleague or a friend. They also offer a bubble tea, salads, sandwiches, spirits, and gelato for those interested.
(My order – cortado and pb stack • $11)

About the Photographer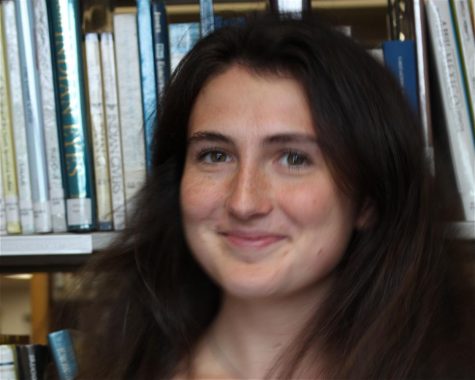 Sarah Whitmore, Staff Writer
Sarah Whitmore is a senior at Gloucester High School and a member of the cross country team. She is also a member of the National Honor Society, Treasurer...