Electrical program sparks student engagement
Students looking to take charge of their future may consider enrolling in the GHS Electrical program. Electrical is a unique shop that offers students a head start on their future careers.
According to teacher Robert Devlin, electrical is a class that teaches students a variety of different topics about electrical wiring at four  different skill levels.
"I teach from freshman to seniors," said Devlin. "From very basic electrical theory to things like industrial controls, piping, solar electricity and house wiring. I teach a lot of code and electrical theory."
The first and second levels typically do a lot of work in the classroom and level two classes tend to do around-school activities. Level three and four classes do more challenging electrical work and projects outside of GHS.
Sophomore Ethan Uhlig, who is taking the first level class has recently done basic projects such as creating and wiring a circuit board that made a series of lights turn on.
"It is more relaxing than my other classes," said Uhlig. "There is hardly any sitting down and being told how things work. You figure out how things work on your own, and learn from experience."
Students describe these shop classes to be very different from their core classes.
GHS senior Dylan Piscitello, who is taking the level four class, has recently fully wired a shed that the neighboring carpentry shop class made. He describes the community of the class as "close know" with "a lot of group work." The  class holds a lot of events, including holiday parties and cookouts.
"We can joke around, and we have fun, but we definitely get work done," Piscitello. "Once you make your friends in the class the whole mood changes."
However, to get to this point in the class, students argue that you have to get past the basic and sometimes tedious work.
"Listen carefully to the basic instructions," said Uhlig. "And as much of as science behind it may not seem important, it helps much more than it seems."
Not only do they learn about the electrical trade, but Devlin maintains that students learn important life and career skills that many other classes can't provide.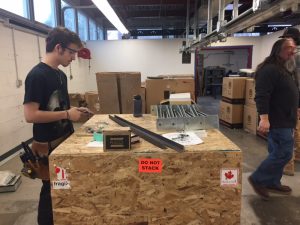 "They have to learn when working in these environments that this is different than a classroom, and they have to work with other students," said Devlin. "Younger students have to work with older ones, and be mentored. "
Devlin and his students are also aware of the opportunities that can arise for them when taking these classes.
"I'm taking electrical in case I want to work in that field in the future," said Uhlig. "And when I own a home I won't have to pay a bunch of money to have people fix what I could on my own."
Other students are taking electrical because they have already decided on electrical as a career path and have decided to get an early start in high school.
"I am definitely going into the electrician business because my family, for generations, have all been electricians," said Piscitello.
"My dad owns his own electricians business," said GHS junior Nico Taormina. "So it is just what I've always been best at."
Devlin also wants his upcoming students to enter electrical shop with an open fresh mind.
"We start from nuts and bolts," said Devlin. "We don't want any preconceived ideas of what electricity is. We want them to know the real trade."
As for the shop students, they think that incoming electrical students should keep Devlin in mind.
"The teacher may act big and tough," said Piscitello. "But he is a real nice guy."