I stopped eating sugar for three weeks, here's what happened
At the start of this month my mother and I️ embarked on a no sugar added challenge in the peak of the holiday season. No sugar added means no sweeteners of any kind other than that which occurs naturally, as in fruit.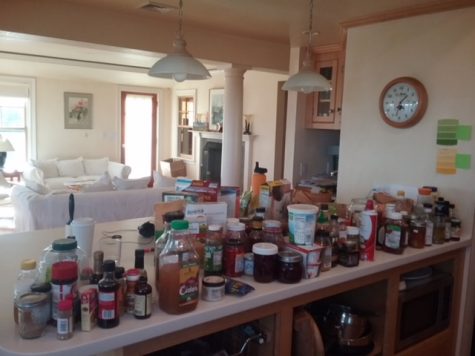 Although I am generally a health conscious eater, I️ definitely have a weak spot for desserts. So I️ decided to join my mom to challenge myself, and become more conscious of exactly how much my sugar intake is. Keep reading to find out how it went and tips for those who are inspired to join. 
Day 1- Okay this day sucked. First day of the challenge I️ was home sick. All I️ wanted to do was sleep and devour everything, but my mom had not shopped since we cleared out all of the sugar added foods.
Helpful tip: I️ am a major ice cream addict. In order to satisfy my cravings, I️ would freeze a few rip bananas and blend them (adding frozen fruit or cocoa powder and Teddy's PB). Amazingly enough, it was just like soft serve ice cream.
Day 2– Thai Food and Chinese food have so much sugar, something you wouldn't realize. I️ had to scour the menus of these restaurants in order to find an entree that wasn't dosed in a sugary sauce.
Helpful Tip: look at the online menus beforehand and choose steamed veggies and chicken with no sauce.
Day 3- My friends and I️ love to get coffee and pastries on Sundays. Luckily I️ don't usually put much sugar in my coffee, but to let go of the pastry was hard. I️ assumed I️ could get a bagel or croissant but they contain sugar too. We finally went grocery shopping today and should be well stocked for the week ahead. Fruit, veggies, nuts, (plain) yogurt and bread were essential. Cereal was a no.
Helpful Tip: Bread lover? Ciabatta bread and Ezekiel Bread (found in the freezer section) contain no sugar.
Day 4- For breakfast, I️ put homemade applesauce in my oatmeal and to my surprise it was satisfyingly sweet as a substitute for brown sugar. I️ have begun to get creative. Tonight for dessert I microwaved my RX Bars for 15 seconds.
Day 5- Today was a half day so I️ went to pick up lunch for my dad and I️. Once I left the restaurant, I️ realized my sandwich containing pastrami and rye bread had added sugar. This is probably the worst thing that has happened so far. Frustration and hunger consumed me. I️t was a waste but luckily I️ was able to stop at a cafe with my friend on the way to the mall.
Day 6- I️ aḿ tired, sick, and hungry all the time. I️ miss getting pastries with my coffee. I also realized in the absence of sugar I have been over-consuming fruit (which also isn't healthy). I️ am starting to track my food to keep a balance.
Day 7- We made it through the first week!
Day 12 (half way mark)- I️ haven't made an entry in a few days. During this time, both my mom and I️ had noticed a greater mental clarity and focus as a result of this challenge. I have been traveling and eating out, so paying close attention to the menus has been important.
For example, Not Your Average Joe's at the mall claimed that all their entrees contained sugar. At all costs AVOID the dessert menu (it's a deadly trap)! And for eating breakfast out, you have to skip the craving for pancakes and pick the omelet.
I️ also adjusted well to sugarless coffee (you can still have flavored coffee) but definitely consumed my fair share of toast as a supplement for pastries. Today I️ had semolina bread, which I️ later found out contains sugar; we must allow for a few hiccups in this challenge.
I also noted an added bonus of shedding 4lbs. Tonight my dessert was a faux orange Julius smoothie:
-2 tsp Orange Juice concentrate
-1/4 c. Lite coconut milk
-1/4 c. Plain yogurt
-dash of vanilla
-frozen mango
-handful of ice cubes
Day 14: The hardest part about this challenge has been eating out. While there are definitely restaurants that are fairly safe (Mexican food), most restaurants are not. I️ went out for sushi with my dad last night and all the sauces that decorated the sushi were loaded with sugar. On the bright side I️ think I've been sleeping better.
Day 15: Larabars are my savior! At this stage of the challenge, most of my cravings for sugary treats have subsided. Yet, in the wake of those cravings, these bars offered a "no sugar added" satisfying solution, and I️ didn't even have to make them myself.
Day 19: The end of challenge is only three days away. Although I have adapted to a "no sugar added" diet, my diet is very limited. My daily intake of various forms of toast has been impressive.
Through this challenge I have become very aware to reality of sugar in the American diet. Nearly every processed packaged food and restaurant entree contains added sugar. This challenge has saved me money, helped me lose weight, think clearer, and forced me to eat cleaner.
So if you are looking for a way to start your new year off right, this challenge may be for you. Within today's sugar infested culture, I think it's important to take a step back in order to reevaluate what we consume in order to create a healthier future for ourselves.