GHS sets the stage for a new theater program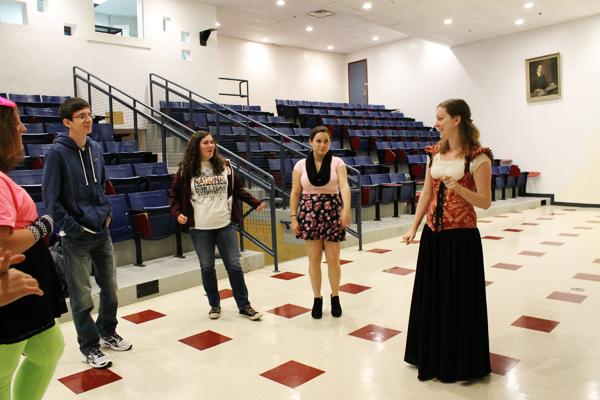 Things are looking up for the Gloucester High School Drama Program. Nearly a decade after theater was cut from the high school budget, GHS welcomes a new Theater Arts teacher, Ms. Jessica Ruggles, to the faculty.  Now students interested in drama have the opportunity to study theater, for credit, during the school day.
"I want everyone in the school to try a theater class," said Ruggles, a graduate of USC and Emerson College. "When I was at USC, everyone took theater classes no matter their major." Ruggles says she hopes to make this her mission for the theater program. This semester Ms. Ruggles is teaching acting, musical theater, playwriting, and directing. Next semester she will introduce a technical theater class.
Ruggles was introduced to acting by her father, who ran lights and sound for a local community theater. Instead of hiring a babysitter, her father brought Ruggles and her little brother with him during tech weeks.  "I was fascinated by everything going on around the theater," said Ruggles, who landed her first role at the age of seven, playing Zuzu in "It's a Wonderful Life".  She was in college when she realized she wanted to become a director and teach people what she already knows.
Ruggles says her major goal is to communicate and collaborate with the other departments at GHS. She hopes that she can have the school band, The Docksiders, play the music for whatever musical they chose to do in the spring. She also hopes that other departments will help too, particularly the Art and English departments. "I believe the theater program should be a close knit community,  said Ruggles. "Not only for the students who are in the plays, but also the rest of the school community."
" I think she is a fantastic teacher," said junior Mikayla Healey who takes Musical Theater this semester. "She is very good at including everyone in the class, even people who don't have a lot of experience or are nervous about taking an acting class"
Ms. Ruggles is also the director of the after school GHS drama program. Auditions for the fall play Chemical Imbalance: A Jekyll and Hyde Play, by Lauren Wilson will be held September 30th and October 1st.  Ruggles says she wants to encourage students to be involved in theater any way they can. "My door is always open if you want to come visit and talk, said Ruggles.  "Or you can come sit in on a play rehearsal."
For more information about the GHS  theater visit:  gloucesterhighdrama.blogspot.com