Graffiti artist Danny Diamond: painting with a sense of place
How does Gloucester inspire you?
Does the landscape energize you? Does the art around you ignite a flame? Are you motivated by the citizens around you?
For GHS alumnus Danny Diamond, all of this is true.
Diamond is a graffiti artist and muralist hailing from Gloucester, who has been involved in art since he was a child. He has since branched out from the community to cities all over the country. Diamond has already added to the rich art history of Gloucester by adding his work to the man-made landscape, becoming recognized by other artists and reflecting his Gloucester inspired style to other cities.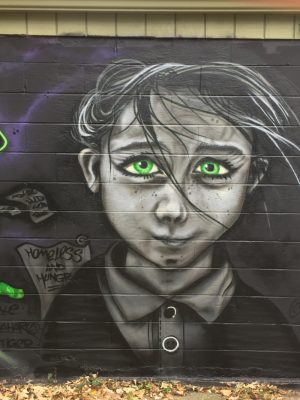 Graffiti vs. Street Art : Explained
Diamond describes graffiti as non-political and non-social commentative art, in contrast to street art, which tends to include political or social commentary in the art itself. Graffiti tends to be more about the artist's personal style, like a signature.
"Graffiti relies upon graphic design and color-theory, personal re-interpretation of english language, style over substance," said Diamond. "My style is psychedelic b-boy from the 80's breakdancing in zero-gravity outer-space next to a super-nova."
Diamond's style hails from North Shore Massachusetts, which has evolved based on his environment and other places he has painted.
"I try to paint with people in different parts of the country, we can trade techniques and pick up new tricks," said Diamond.
Diamond describes the North Shore style as "chunk, pop, lock and flow." He then compares it to the style out in California. "I paint with the guys out west and their style is much more like martial arts, aggressive, sharp and claw like," said Diamond.
Gloucester's Art
There are murals, graffiti and street art around Gloucester that residents don't know about. Diamond knows plenty of these art hot spots, because he is both an enthusiast and a contributor to this art.
One piece that Diamond had pointed out was his Prince Insurance piece. There is also an octopus mural out on Mount Vernon.
Diamond has also done the Backyard Growers van, and a piece for Ben's Wallpaper and Paint.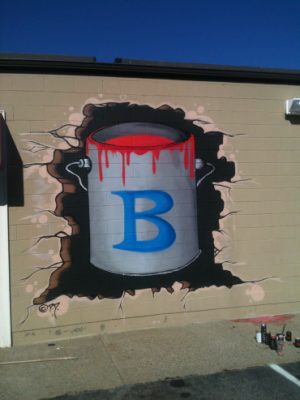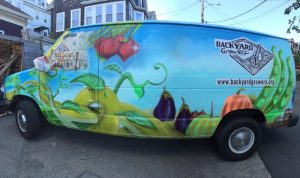 New Artists Needed
When Diamond described his goal for the future of becoming known across the nation, he is avid about crediting his roots.
"I'm from this place. I was educated here and informed as an artist by the beauty here. My art represents this place," said Diamond. "I recently painted the man at the wheel which cemented my position as a Gloucesterman."
This makes him unique when he visits the West Coast for his work. Graffiti, and graffiti artists are much more common in California, according to Diamond.  On the North Shore, he typically works at night with few others around. In California, many of the artists paint publicly in the day. In Gloucester especially, there are almost no graffiti artists left.
"There's nobody left but me," said Diamond. "So to whoever's coming up next: The world is yours. Just leave the old work alone and don't tag over something that's been sitting there for ten years; it's a piece of history."
This opens the door to GHS students. Teens have a clean slate to immerse themselves in a new art form.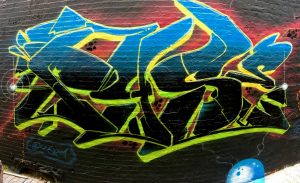 The Controversy Surrounding Graffiti
Recently, one of Diamond's pieces has come under fire by Gloucester residents. Diamond painted a mural, and tagged the wall of the Brewery downtown. Residents have started a petition to get the work taken down, arguing that the art is "gang related."
This could not be farther from the truth.
The owners of the Brewery hired Diamond to paint a mural to tell a story about the revival of Gloucester and the brand's connection to it. So to the best of Diamond's ability, he recreated that. He then signed his work on the Rogers Street side of the building.
Even though this has caused a bit of a stir in the Gloucester community for some time, Diamond continues to have a positive outlook on the situation, turning the negative attention into motivation. He relates more controversy with more success.
"There are always controversies around good art," Diamond said, "so to hear that controversy is a good sign to me."
In October of 2014 he painted a portrait of the famous horror movie character Carrie which was almost immediately taken down for being "too graphic." Though these moments are frustrating, he does not let it discourage him from furthering his career.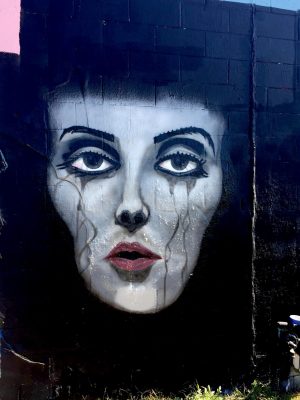 Diamond is successful in a career that presents many obstacles and judgements against his art. Yet his passion and talent for what he does motivates him overcome these hurdles.
His main goal for now is to become a nationally well-known graffiti artist. He plans to get there by demonstrating the inspiration he has gained from Gloucester and the North Shore through his art.
Check out this GHS alumn's amazing work around town, and see more on his website: Skribblefish.com